The Artist: Delightful Oscar-Winning Film
Bérénice Bejo

Jean Dujardin

...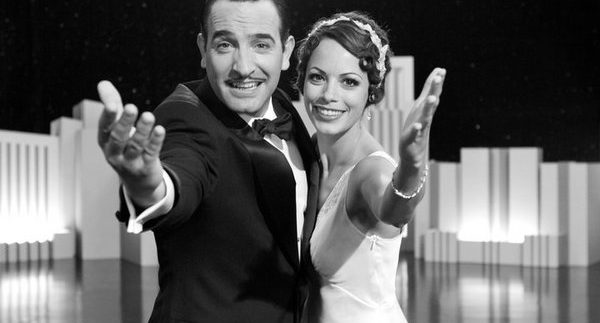 The Artist; the *gasp* silent film that had people going to the cinema in droves, singing its praises then translating that goodwill into a big win at the Oscars. And in case you're equating the words 'modern day, silent film' with 'gimmick', we'd just like you to know that the film not only lives up to the hype but it stands up to repeat viewings too. It tells the story of a man who refuses to adapt with the times and of the fear and pride crippling him and holding him back. Put that way, it sounds like pretty heavy fare, but it's so heavy on the charm that it's actually a delightful crowd pleaser.
George Valentin (Dujardin) is a silent film star who's been shunted aside by his refusal to adapt to the future of cinema; speaking. Left broke after a failed attempt at starring/directing/producing his own silent film, he drowns his sorrow in alcohol as he watches Peppy Miller (Bejo), an actress who got her start as an extra in one of his films, become a star in her own right and the toast of the town. The Artist is the story of how he overcomes his fear of change, gets over his pride and allows Peppy to help him regain his place in Hollywood.
We could go on and on, singling out each specific element of the film, about how perfect all of it is, but the real wonder is in how everything complements each other. You can't single out one actor as superior, because they're all uniformly fantastic, even, or maybe especially, the dog.
The score, as the sole source of sound, contributes as much to the story as the visuals do; it is sublime and not overpowering or overwrought in the slightest, while the editing is ridiculously entertaining and pretty inventive. The film has all the hallmarks of a classic and not because it's black and white. It's the kind that begs to be seen with people, not alone on a crummy laptop screen, as half of the fun lies in sharing the experience and the emotions with others.
It's a flawlessly told, feel-good story that's more timeless than old fashioned and practically dripping with charm. At the risk of sounding wildly over-the-top; The Artist is pure joy. Show us one person who doesn't come out of this grinning from ear to ear and jiggling their feet and we'll show you the biggest killjoy in Cairo.