The Cove: Thought-Provoking, Award-winning Documentary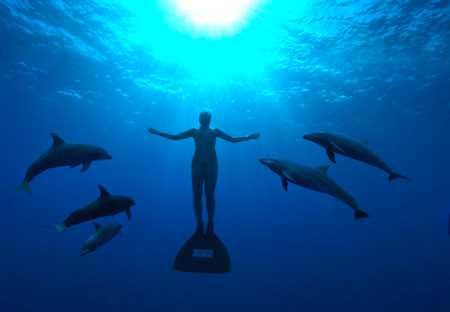 There are very few films that deserve a perfect score. Critics and audiences rarely agree over what makes a film perfect; but this film has earned an almost perfect 96% rating on critic website Rotten Tomatoes and a perfect score on Cairo360.

Winner of Best Documentary at the 2009 Academy Awards, The Cove is the latest in a growing series of environmentally conscious documentaries using state-of the-art equipment to create a thriller framework.

The film exposes Japan's gruesome slaughter of dolphins and its government's policies of aquatic horror. It features the efforts of one team of activists in the Japanese town of Taiji where this cove exists. The cove is a beautiful sea shore where the marine horrors take place.
Fishermen use loud noises to corner the dolphins into nets close to the shore – dolphins's primary sense is hearing (sonar) and loud noises scare them – where they would be caught in nets and killed shortly afterwards.
Meanwhile, it is prohibited to record these ghastly and cruel killings; photographers and cameramen are harassed by the fishermen and the police; so the horror cannot be recorded.

The team includes activist Richard O'Barry the dolphin trainer who was behind the hit show Flipper . O'Barry became a dolphin activist after Kathy, the dolphin that played Flipper in the show, allegedly died in his arms because she refused to be in captivity.

The team uses high-tech cameras and microphones, in addition to military and industrial light and camera equipment to record the never-before-seen graphic abuse of the smart and majestic animals. What follows is a series of thrilling, heart-racing action that you certainly don't expect from a documentary, proving that real men's atrocities exceed all fiction.

The result is bone-chilling footage of cruelty that may be tough to watch at some points. The film is not only an open call for activism, but a great manifestation of the new wave of conscious eco-documentary series.

The Cove is visually compelling, and doesn't deliver its message in a dry documentary tone; it tells a story in a gripping manner that forces the viewer to acknowledge that these acts of cruelty are being committed every day. It is a moving and well-constructed documentary that will force you to reconsider human cruelty and value the importance of activism.