The Girl with the Dragon Tattoo: A 40-Year-Old Murder Mystery
Christopher Plummer

Daniel Craig

...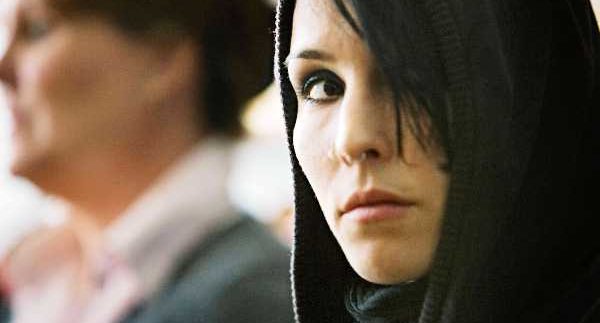 Based on the bestseller
trilogy by Stieg Larsson, the Swedish film The
Girl with the Dragon Tattoo is a fantastic thriller. With an erratic
heroine filling in for the usual grizzled detective, the film's atmosphere is
sinister, and moody frames unfold the intricate murder mystery. We might have
seen stories similar to this before, but never with such a fierce female
protagonist, whose character is brought to life by a bold performance by Noomi
Rapace.
At first glance, Lisbeth
(Rapace) comes across as just another dejected and self-absorbed Goth girl. But
this girl has some tricks up her sleeve: she can kick your ass, and then some.
She also happens to be a brilliant hacker; a cool side effect of her Asperger's
Syndrome. Her unique computer skills landed her a career as a cyber detective,
and she gets hired to dig up dirt on Mikael (Nyqvist), an investigative
journalist who recently lost his job after digging up dirt on the wrong people.
Physical abuse against women
is the source of all the evil in The Girl
with the Dragon Tattoo, and it has tainted all the characters in some way
or another. Mikael gets hired by a rich old man to solve a forty-year-old
murderer case and Lisbeth hacks her way to the case files on his computer. Her
mathematical genius and photographic memory unlocks some shocking secrets, so
she gets in touch with Mikael and eventually the two team up to solve the case.
However, before the fun kicks in,
the film spends more than an hour introducing useless sub-plots. Perhaps they
get resolved in the subsequent films, but they simply bog down the story's progression.
In one scene when our two leads sit down before of a stack of old pictures and
folders to do some 'detective work', the film almost comes to a halt. This
becomes less of a problem the closer our leads get to uncovering the truth, but
the puzzling mix of fast-paced thrills and dull crime-solving mechanics holds
the film back from reaching its full thriller potential.
It's interesting to see how
director David Fincher (Fight Club, Se7en)
will tackle the upcoming US
version of The Girl with the Dragon
Tattoo; a film that already has his fingerprints all over its dark and
moody atmosphere. Maybe he'll bring something new to the table. Even if he
doesn't, the Swedish version is still a great thriller with an exotic setting
and ignited performances. Endure the slow turns; the payoff is worth it.