The Inbetweeners Movie: Straightforward, Hilarious Teen Comedy
Anthony Head

Blake Harrison

...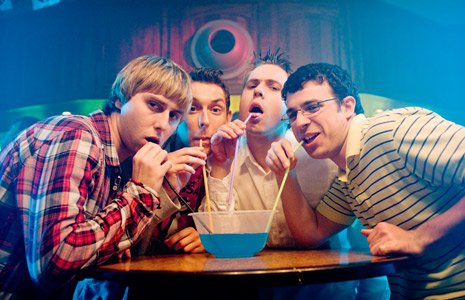 A film spinoff of the popular UK TV show by the same name, The Inbetweeners Movie revolves around nerdy
virgin Will (Bird), sex-obsessed Jay (Buckley), dumb as rocks Neil (Harrison),
and heartbroken Simon (Thomas) who has just been dumped. They go to Malia, Crete with the
express intention of getting as drunk and having as much sex as possible.

However,
their holiday gets off on the wrong foot when they see their rundown hotel room,
which doesn't even have enough beds for all of them. Undeterred, they mosey on
over to the strip where they find a sexy club promoter beckoning at them to
enter one of the clubs. Jay flirts with her and drags the guys inside the bar after obtaining
a promise from her that she'd join them after a while. It turns out to be the
emptiest bar in the whole of Malia and while the promoter doesn't show up, four
girls do. The two groups are, of course, destined to couple up but only when
they overcome the obstacles keeping them apart. Plenty of hilarity and extreme
awkwardness ensue.
Out of all the R-rated comedies that have come out these past few years,
The Inbetweeners is most reminiscent
of Superbad in that it combines the
raunchy, the sweet and the painfully awkward in one hilarious package. Sending
a gang of adolescents off to a foreign holiday is practically the oldest trick
in the book, but it's still thoroughly entertaining.
The four leads play off of each other perfectly and while each guy is a
slightly exaggerated take on a stereotype, they will remind you
of guys you knew in high school. If you're unlucky, guys from college as well.
And while they're all pretty great, Bird, in particular, stands out
as the nerdy Will. Anthony Stuart Head (Buffy
fans will know him as Giles) also has an awesomely funny cameo as Will's father,
who's prone to taking the mickey out of his son's eccentric ways.
The Inbetweeners is pretty
straightforward and conventional, both plot and character-wise, and very
obviously low-budget; but the amount of laughs it packs in make this DVD worth
watching.