The Kids Are Alright: Time to Meet Your Biological Father
Annette Bening, Julianne Moore, Mark Ruffalo, Mia Wasikowska, Josh Hutcherson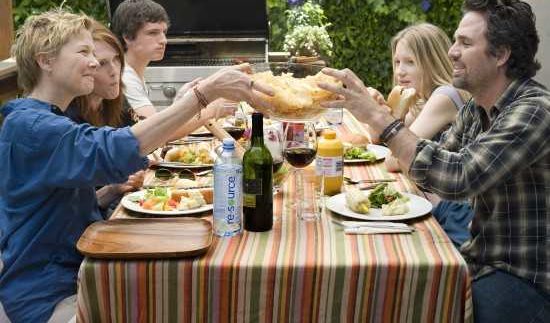 The Kids Are All Right is a domestic comedy about a gay
couple (Bening, Moore) parenting two teenagers. The gay relationship isn't
propped as an exotic draw nor is it played for laughs, but rather treated in a
matter-of-fact fashion. And while the couple's orientation is beside the point,
it's also the impetus and part of the film's underlying subtext.
All
families are the same. Whether they are Upper Egyptians, right-wing Americans,
or an upper class lesbian couple from Southern California; parents provide, kids
grow up and leave, and love sometime runs dry. Nic (Bening) and Jules (Moore)
are no exception. The two have been together for two decades, with Nic assuming
a more dominant role, while the earthy Jules is a stay-at-home mum. Their
oldest daughter Joni is about to leave for college, but having turned 18; she
also is curious to learn about her biological father Paul (Ruffalo).
After Joni
gets in touch with Paul, she and her brother meet him at his organic food
restaurant and she is surprised when he turns out to be a carefree,
self-satisfied guy. Paul slowly ventures
into the family, and after spending time with his two children, it becomes
clear to him what's missing from his life; family and stability. His presence
eventually takes its toll on each family member, effecting their relationships
and stability, and little-by-little, The
Kids Are All Right exposes some poignant revelations about commitment and
what it means to be in a long-term relationship.
Aside from
Lisa Cholodenko's competent and delicate direction, all leads are on top of
their game: Moore projects her frustration with subtle honesty, while Bening is
burdened with the more complex character and transmits all the nuances with a
superlative performance, outdoing her turn in American Beauty. Ruffalo's character sets a new standard for
middle-age cool; and he turns what is essentially a self-centred jerk into a
relatable portrayal of a man-child
The Kids Are All Right is blunt in its dialogue, very
candid and outspoken. It strikes a lot of truthful chords, and above everything;
it will make you confront your ideas about intimacy and coupling. There are a few
scenes of such masterful dramatic urgency, but the rest of the film is more funny
than it is overbearing; a winning mix of sass, frankness and wit.