The Selfish Giant: Engaging British Drama on Hardship & Poverty
Conner Chapman

Shaun Thomas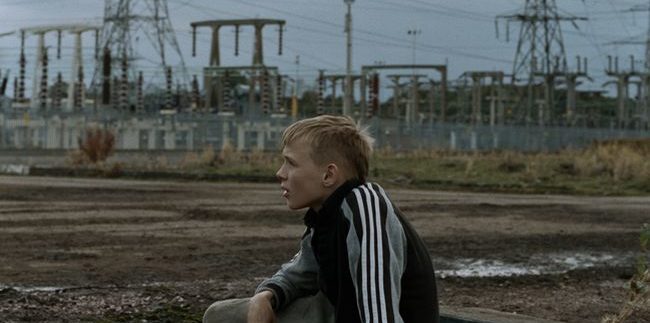 Following her biographical documentary of the late playwright, Andrea Dunbar, in the 2010's The Arbor, Clio Barnard's The Selfish Giant is by no means an easy watch. Inspired by Oscar Wilde's story of the same name, the latest effort from the British writer-director comes as a distressing and soulful throwback to a time when life was unforgiving and growing up was no easy task.
Set in the abandoned industrial fields of Northern England, The Selfish Giant follows the lives and shenanigans of thirteen-year-old, Arbor (Chapman), and his less courageous best pal, Swifty (Thomas). Arbor suffers from what appears to be an Oppositional Defiant Disorder and as a result, he is feisty, unpredictable and often uncontrollable, while Swifty, despite his towering presence, is the more placid of the two and tends to serve as the only voice of reason.
Growing on the impoverished streets of Bradford hasn't been easy and the boys, whose unbreakable bond is the only things that keeps them going, are desperate to eke out a living and somehow offer a helping hand to their equally struggling families. After being expelled for fighting school-yard bullies, the boys come across some stolen copper wiring cables – which they recover from the nearby railway tracks – and decide to sell it to iffy local scrap-yard owner, Kitten (Gilder).
After their successful transaction, the boys are quickly lured into working for Kitten full-time as scrap metal collectors. However, Arbor is unfulfilled and soon persuades Swifty, who begins taking a liking into Kitten's racing horse, into joining him in new – and seemingly dangerous –heists.
Much of the film's success lies with its two unbelievably likable first-time stars, whose brutally honest and deeply-layered performance offer an incredible amount of weight to what is a pretty straightforward story. Chapman, as the foul-mouthed, thick-accented Arbor is utterly infectious, while Thomas, as his taller and softer shadow, is just as compelling.
The sun never shines in Barnard's The Selfish Giant and there's a lot of feelings of hardship o be found at its core; but thanks to the wonderful cinematography – where a blue-grey palate dominates over proceedings – and captivating performances, there's also very particular beauty, and hope, to be found below the desolation.