The Whistleblower: Powerful Drama About Human Trafficking
Monica Bellucci

Rachel Weisz

...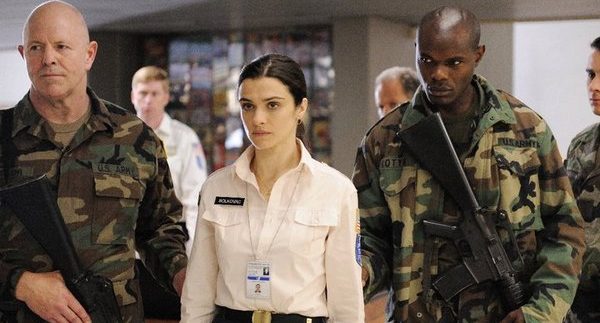 Kathryn
(Weisz), an American police officer, is about to be separated from her
daughter. She lost custody to her ex-husband and now he's
moving halfway across the country and taking their daughter with them. When her
intended job transfer falls through, the promise of good money in exchange for six
months of work entices her to become a UN peacekeeper in post-war Bosnia. What
starts out as a basic assignment quickly turns into a hellish situation when she
uncovers a trafficking ring with ties to the peacekeepers. As she investigates
further into the case, she starts to find out just how high the corruption goes
and the extent to which it reaches.
The
film is especially successful at depicting a genuine and believable atmosphere;
expressing it in the smallest details. It shows Bosnia as a place where women
are not respected neither by Bosnians themselves, as evidenced by the rampant
cases of domestic violence; nor by the various international peacekeepers, as
evidenced by their complete dismissal of these women's
problems. It is this casual sexism that robs the women of hope and ultimately
makes Kathryn's work so difficult.

The
trafficked girls and the Bosnian women in general are portrayed in a fantastic
way. They are scared but not passive and they don't wait
around for Kathryn to help them. There is a scene that portrays a group of
Bosnian widows trying to physically reclaim the houses that were taken from
them A Bosnian run shelter for trafficked girls plays a prominent role in the
story and it is these girls who, at a great risk for their lives, give Kathryn
what she needs to put the men behind bars.. The film empowers Bosnian women which
is greatly refreshing.
The
film strongly highlights the UN's relation to trafficking; even uncovering
their direct involvement. In this way, it tackles the problems associated with
modern day imperialism and the negative effects of having foreign forces in a
position of power in a different country – especially foreign forces with
political immunity. Weisz gives an amazing performance in a film that is
essentially a single man show. The more personal the case becomes to her, the
more determined she becomes to do something about it, yet when the odds are
stacked against her and her work endangers not only her life but the lives of
the girls as well, the film becomes downright hopeless and heartbreaking – all the more because of the fact that it is a
true story.
Films
like this don't come along very often and this one manages to
effectively portray the magnitude of the problem while diffusing the blame in
the right directions. It doesn't try to boil the message down to a moral stance on how
trafficking is wrong, but it doesn't shy away from the brutality these girls
are subjected to either. To round it all off, Rachel Weisz gives a remarkable
performance.