W.E: The Pitfalls of Celebrity & Fame
Abbie Cornish

Andrea Riseborough

...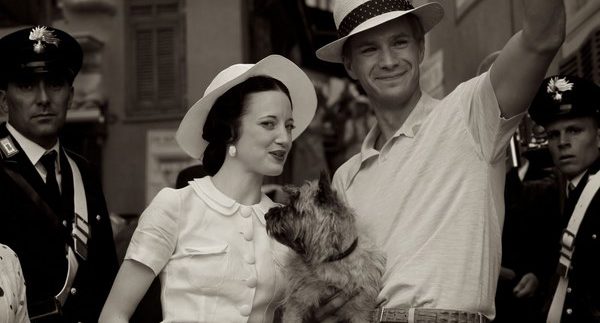 W.E. refers to Wallis
Simpson (Riseborough) and Edward Windsor (D'Arcy) – the former an American divorcee,
the latter king of England. Madonna's directorial debut details their highly publicized, scandalous romance in 1930s
England.

A parallel story, set in Manhattan in 1998, depicts a young housewife by
the name of Wally Winthrop (Cornish) and her obsession with Wallis and Edward's
'fairytale' romance. Wallis and Edward's arc doesn't focus so much on their
whirlwind romance as it does on what it ends up costing them – Wallis in particular. It's
a study of the toll that fame can take on you which at least explains why
Madonna was drawn to the film. Wally's arc also looks at fame but from the
perspective of the adoring fan, while the film also touches on the subject of
children and how the ability to bear them reflects on the perception of a
woman's worth.
Riseborough is a revelation. The film crackles every second she's on
screen. Wallis gives off the impression of a woman who's got it all together,
at least at first. But as the film goes on and her relationship with Edward
grows stronger, chinks in her armour begin to appear. The constant presence of
the paparazzi, the rumours flying about, the snide remarks and the sideways
glances start to take a toll on her as she reconsiders whether or not Edward is
really worth all this trouble and the assault on her reputation.
The story also explores Wally's relationship with her emotionally abusive, possibly philandering husband. Fuelled by obsession, she visits a Sotheby auction, centred around Wallis and Edward daily, and it triggers daydreams about Wallis' life. While Wallis' arc feels
personal, powerful and urgent, Wally's arc was seriously short-changed; she's
too much of an extreme. Her fixation on Wallis defines her, as does her
obsession with having a baby. She's a blank slate unworthy of the attention of
Evgeni, the security guard (Isaac) whose eye she catches. Isaac is the absolute
best thing about this plotline; he makes Wally seem interesting by association
and elicits the film's few laughs.
There's half of a great film here, half of an average one and a truly
awful, too tidy ending. The visuals though are consistently spellbinding making
the film a must see for anybody interested in interior, costume or fashion
design.
The film doesn't offer any deep insight about the nature of celebrity
but it does showcase it from a different perspective and highlight the double
standards frequently employed by both the press and the general public. It's
not a perfect film by any means but the few things it succeeds at makes it
worth a watch.