Woody Allen: A Documentary: An Informative Look at a Legendary Director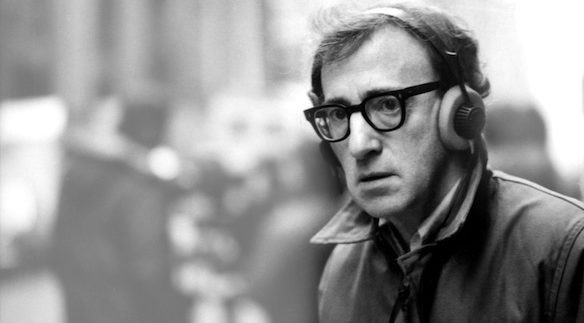 Woody Allen needs no introduction. The director of classics such as Annie Hall, Manhattan and Crimes and Misdemeanors,
he's made his mark on cinema while continuing to crank out a film a year for
the past four decades.
This documentary is a very comprehensive look at his life and career
since childhood until his latest film Midnight in Paris. It consists of interviews with Allen, film critics, business
partners and many of the actors he's worked with such as Diane Keaton, Scarlett
Johansson and Sean Penn, among others. There's also plenty of archive
footage, old photographs and a significant amount of excerpts from his films.
By far the most engrossing part of the documentary is the one
chronicling his life prior to directing his first film. Allen started work as a
joke writer for newspapers then for television; his management then pushed him
into becoming a stand-up comedian. After getting over his stage fright and as he started
to make a name for himself, Allen's managing team saturated the media landscape
with him, aggressively marketed his brand and turning him into a household
name. In this part of the documentary we see various clips of Allen on stage
doing stand-up and causing television hosts to giggle uncontrollably on their
talk shows. We're also shown a clip of him doing a song and dance routine, in a
top hat and cane no less, and another of him boxing with a kangaroo. Those two
performances are so randomly awkward and hilarious that they give pretty good
incentive to watch them all the way through.
At over three hours long, this documentary is a commitment to watch –
especially if you're not particularly invested in Woody Allen or his work. There's
nothing innovative or particularly interesting about the film's structure; it is
a chronological timeline of Allen's work and doesn't contain much of what may
be regarded as new information to the director's fans. Nevertheless, watching
the famously shy director speak about his work and reminisce about his life and
New York in the old days is still pretty interesting; especially when he talks
about cinemas – or as he calls them, 'film houses'. His views on Bergman and
Fellini – who are probably the foremost influences on his work – are also
interesting as he draws parallels between their films and dominant themes in his.
Being the legend that he is though, he deserves a better documentary than this one.
It's pragmatic and has some real gems, but a figure like Allen deserves
something a lot grander; something with flair, personality and attitude not
just a video version of his IMDb page.