World's Greatest Dad: When Misfortune Becomes a Chance for Success
Robin Williams, Alexie Gilmore, Daryl Sabara,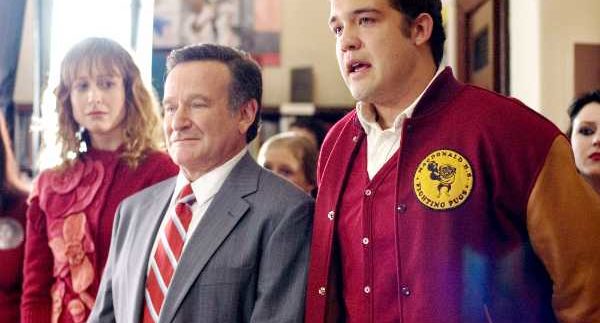 In World's
Greatest Dad, Lance (Williams) makes the most selfish and morally
questionable choices, yet he still ends up being a sympathetic character. Why?
Because as reprehensible as his actions may be; they are driven by a moral
ambiguity that we all know so very well, and Lance
never loses sight of that. He lies to everyone around him, but never to
himself.
As the title implies, Lance is a single dad
to one truly obnoxious Kyle (Sabara). Kyle is an ungrateful and inconsiderate brat
who doesn't appreciate his dad's constant attempts to get through to him; even
after agreeing to a fair transaction: Kyle agrees to go watch a film with his
dad in return for a brand new computer screen. When Lance fulfils his end of
the deal; Kyle just picks up the box and
leaves his father behind, but not before yelling at him. None of this stops Lance
from showering his son with love and attention, however.
Lance is an unpublished author, unlucky in love, and his teaching job is
on very thin ice. All this gets turned on its head however when Lance takes
advantage of something that most people would not dare contemplate. It starts
accidentally with the best intentions, but quickly turns into a conscious
choice. Many doors open for him, and finally he gets the opportunity for people
to appreciate his words. But how far is he willing to go?
This dark comedy deals with morbid issues with great delight and
cheerfulness. It's more of a what-if scenario rather than a plausible story,
and the film keeps that in mind. Besides Williams, everyone else feels more
like a chess piece that moves according to the needs of the story, either
giving Williams more temptation or presenting him with an obstacle.
On the other hand, Williams flexes a different acting muscle, one never
seen before. Usually he is either the animated and zany Williams (Mrs. Doubtfire and RV), or the thoughtful and bogged down Williams (Good Will Hunting and Insomnia). Here, he emotes no bitterness;
he's effortlessly chipper without comically blabbering his way through the
picture.
By the end, the film teeters a little on the
edge of the fantasy realm to give an emotionally satisfying finale. It ends on
a light note, keeping in tune with the satire that it has morphed into. Despite
all the abhorrent affairs, World's
Greatest Dad is a tender tale that will inspire warm reactions and a few chuckles
too.