Young Adult: Dark Comedy From the Makers of Juno
Charlize Theron

Patrick Wilson

...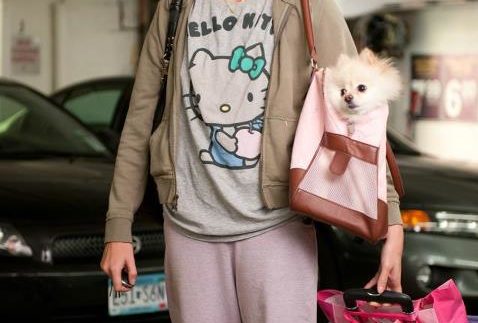 On the surface, Young Adult is
about Mavis (Theron), a writer suffering from writer's block who moves back to
her tiny hometown to reconnect with her high school flame. In actuality though,
it's a character driven drama about a shallow, spiteful woman, suffering from
alcoholism and depression and with no one to turn to.
Right off the bat, you can tell that all is not well on planet Mavis.
She chugs alcohol until she passes out, compulsively pulls out her hair and is
in complete denial of the fact that her life is going down the toilet. Theron
plays this deeply unlikeable character with scarcely any redeeming qualities
and yet, as a testament to her acting skills, you can't help but empathize with
her. Her life is unfolding in a way that she isn't happy with and she longs to
regain her days of high school glory.. She finds it baffling that the people
back home are perfectly content, even happy, with their lives despite the fact
that they're not living in big cities, don't know who Marc Jacobs is and don't
have even the slightest claim to fame. The whole film rests on Theron's
performance and she rises to the challenge admirably.
Oswalt is the film's little ray of sunshine, mainly because his
character is more at ease with his insecurities than Mavis is. He plays Matt, a
high school classmate of Mavis' who was left permanently disabled after he was
beaten up as a teen. He becomes friends with the similarly stuck-in-the-past
Mavis and acts as the voice of reason as she puts her plan to snag Buddy
(Wilson), her high school boyfriend, into action. The comedy in the film isn't
of the outright hilarious type. They're mainly quips that are so biting they're
funny. It's an alternate way of coping with the mess that is their lives.
The film's interspersed with bits of various reality TV shows – Keeping up with the Kardashians mainly –
and parts where Mavis works on her latest book which is the last instalment in
a Sweet Valley High-esque series that is a few years past its prime. These
really set the tone for the film and give the viewer considerable insight into
her psyche. The film has a strong undercurrent where it critiques the adulation
of the adolescent mentality in people who should really be over that phase.
Forget what the poster and name imply about the film and the fact that
it comes from the duo behind the sweet and quirky Juno – Oscar winning screenwriter Diablo Cody and Oscar nominated
director Jason Reitman. It's a painfully realistic film that manages to be
pretty funny nonetheless.