Youth in Revolt: Nice Guys Finish Last
Michael Cera, Steve Buscemi, Ray Liotta, Zach Galifianakis, Justin Long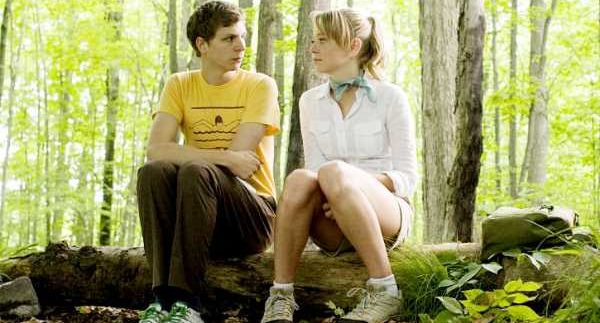 Based on the 1993 eponymous
adolescent novel, Youth in Revolt
is seen through the eyes of Nick Twisp (Cera), a sixteen-year-old virgin filled
with diffidence and self-loathing. The film was released earlier this year, and
although the text is held in such high regard, this little indie gem went
mostly unnoticed.
Off to a hip start with fashionable indie music and a dialogue
filled with hip witticisms, it was hard to understand why Youth in Revolt wasn't met with open arms like its predecessors, Juno or Nick& Norah's Infinite Playlist. Halfway through the film it
becomes apparent that its dry sense of humour and sardonic outlook will not
build up to big laughs. It's clear why Youth
in Revolt didn't win any hearts; it's neither pleasant enough to tag along
with nor dark enough to satisfy the cynics.
Nick meets Sheeni during a family getaway and despite
Nick's gawkiness– or perhaps because of it– the two hit it off. They have their
refined tastes to bond them together, leading to exchanges about the French
new-wave classic Breathless and Mr.
Blue Eyes himself, Frank Sinatra. Right when their courtship is gaining
momentum, Nick has to go back home and leave Sheeni behind, but during their
final rendezvous he promises to take the initiative and come back to
her…somehow.
Out of urgent necessity, Nick invents an alter ego for
himself called Francois Dillinger (named after notorious bank robber John
Dillinger), who's every bit as badass as Nick is a schmuck. Francois helps Nick
get kicked out of his house so he can be reunited with his sweetheart. Things
keep escalading, and whenever they open a door, they find themselves facing a
bigger obstacle.
For a young actor with an entire career built out of playing
the witty dork, Cera displays great
versatility in every turn; he never hits the same note twice. When he embodies
Nick's alter ego Francois, his whole demeanour changes. Even without the vintage
glasses, 70s player wardrobe, and the ironic moustache, he comes off as a
completely different being.
All in all, Youth in Revolt comes across as slightly
unfulfilling, mostly because the original story takes place in
Nick's head, and translating that visually is not an easy feat. Still, director
Miguel Arteta does well at capturing the nuance of this coming-of-age take on
screen. Sweet and sinister with a humorous bent, Youth in Revolt is a heartfelt film for all the pop-fanatic adolescents
out there.