Angelica Dessert Bar: Homemade Goodies in Maadi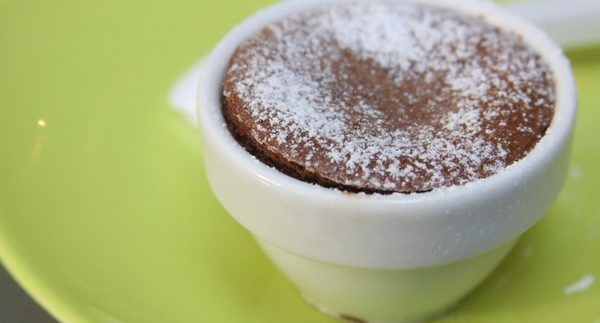 The newly opened Angelica Dessert
Bar in Maadi serves the perfect setup for a fairy-tale, feel-good flick complete
with a dulcified ending: a woman opens the bakery of her dreams, undergoes
the throes of a critical review by a foolhardy foodie, until they happily
reunite over cake!
More Chocolat than Marie
Antoinette, the bittersweet bits of the Angelica Dessert Bar aren't worth a
township's censure or the guillotine, but a couple things do need noting.
Angelica's specialty, the dark chocolate
soufflé, though a rich, pocket-able treat at 10LE and freshly made to order,
was over-baked and on the grainy side. But for a ramekin with a diameter short
of a coaster, baking a smooth, gooey soufflé is an inevitable feat.
The monogram-bearing petits fours –
those bite-sized teacakes that come in jam or chocolate (6LE a piece) – were
cloyingly saccharine leaving us teething like a toddler: 'Got milk?'
But don't desert just yet! All is forgiven after
sampling Angelica's constant comforts of brownies (8LE) and double chocolate
chip cookies (5LE). The brownies are delectable slabs of pure chocolate with a
slightly crisp covering; while its cookies hold a chewy, dunk-able texture.
Cakes at Angelica (50LE per whole
and 12LE per slice) are an old maid's pillow and plate. We went with a generous
slice of the now popular bakeshop classic: the red velvet. The cocoa-based cake
was moist through and through, and the cream-cheese layer was thick and sugared
to a tee. Custom-made and classic flavours are available like chocolate fudge,
date and coconut and carrot. Call for advanced orders, or drop-in for a
surprise.
Nespresso and teabag teas are also
available as well as savoury items, mainly paninis and make-your-own-salads great
for quick lunchtime bites. We tried the Bresaola Panini (26LE): Lombardian smoked
beef, Gruyere cheese and olive oil pressed into a toasty loaf. Dressed with
rucola, the sandwich might be better – then again, Angelica is a dessert bar.
Angelica, named after the emblematic
wild flower, is owned by 24-year-old baker Iman Osman, who took up pastry and
culinary arts in Switzerland and California. But despite Iman's professional
training, Angelica maintains a homespun atmosphere and a menu that changes
weekly according to the her whim and the season's offerings.
The narrow shop off Road 9, splashed
with fandango and peppermint and embellished with photos of kids at tea,
is a refreshing and playful addition to a street lined with the usual brand-name chains. Stay local!