Carlo's: Bustling Nile-Side Hangout in Zamalek
Le Pacha 1901, Saraya El Gezira Street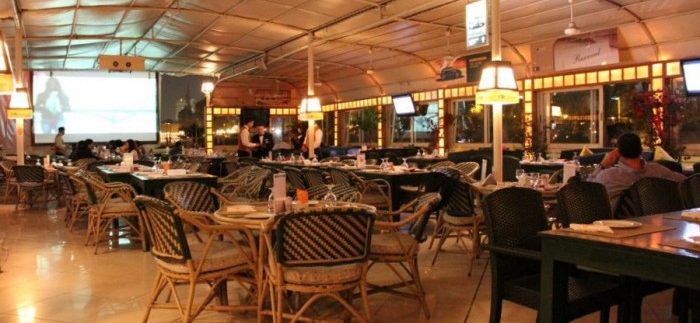 On the Cairo restaurant scene, there's little to distinguish between those that play in the genre of international cuisine. Many will serve the same unauthentic, localised dishes in an attempt to attract the rather than presenting accurate interpretations.
Located on the Le Pacha 1901 boat on the Zamalek Corniche, Carlo's is both a restaurant and a cafe, offering appetizers, salads, pastas, pizzas and main courses alongside cold and warm beverages, shisha and beers, spirits and liquors.
The scent of m3asel is overpowering at first, so unless you're okay with the smell or are here to smoke a shisha, head straight to the far-end where the terrace is open. After sitting down, one of the waiters hastily gave us our menus, and disappeared into the bustle of the half-crowded venue.
We opted for vine leaves with yoghurt (28.90LE) as a starter, and from the main course selection, a Ravioli Panna (67.90LE) and beef fillet with mushrooms (108.90LE).
In regards to portion size, the vine leaves were satisfying and appropriate. Prepared with meat in the stuffing the only letdown was the yoghurt. It wasn't a yoghurt salad – there were no cucumbers or mashed up garlic; just yoghurt.
The Ravioli Panna, prepared with ricotta cheese and spinach, isn't so generous in portion, unfortunately, especially considering its 68LE price. While initially pleasing on the palate, the taste of chicken broth came to overpower the sauce as we dug in more and more.
As for the Beef Fillet, we had our usual scepticism about whether or not they would get the fillet's cooking right. In such cases, we order medium to avoid over or under cooking. More often than not, we receive well done steaks after ordering medium or medium rare. This didn't happen at Carlo's. We got the medium we asked for.
Tender, juicy and pink on the inside, the fillet was perfect. Topped with cooked mushrooms and delicious gravy, it was by far the highlight of an up-and-down meal. Even the side serving of French fries were excellent; crisp and golden on the outside, soft and mushy on the inside.
As for service, well, we've seen restaurants with more attentive staff, and where the food is served faster. But with that said, there were no glaring errors or offences cause. As a space, Carlo's is clean, but not exactly relaxing, thanks primarily to the racket of shisha service.