Cherry On Top: Fro-Yo & Cupcakes in Maadi
62 Road 9, (Beside Just Falafel)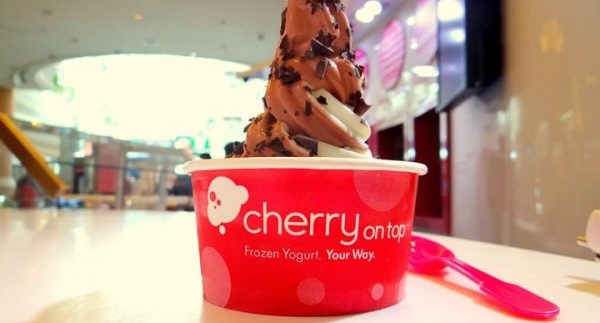 As we edge closer and closer to summer, Cairo's cafes will undoubtedly see an increase in ice-cream and frozen yoghurt sales – it's a pretty simple equation, actually. With the success of their first branch in Heliopolis shopping mall, Citystars, Cherry on Top has opened another on Maadi's Road 9.
Wedged in between numerous little eateries, the shop's bright pink and white fascia does well to stand out on the busy street. Reflected on the inside, the small shop is spotless, with fun decor and a gleaming glass display cabinet stretched across the back. With just a couple of seating options, takeaway is encouraged.
Their menu is a carbon copy of their other branch's; natural and flavoured frozen yogurt is available (16LE-57LE), along with cupcakes (20LE), mini cupcakes (4LE), cookies and a range of cherry treats (15LE-34LE), including crepe (15LE-18LE), fruit salad (24LE), parfait (33LE) and naughty frozen yogurt (25LE-35LE) – frozen yogurt topped with a cupcake. Smoothies are also available, blending frozen yogurt and a choice of toppings.
The staff was both friendly and informative, notifying us that Cherry on Top boast a total of 25 frozen yogurt flavours, rotated into sets of four. At the time of our visit, fat free mango and natural flavours were available, along with low-fat Cinnabon and marshmallow; we were given a shot of each before ordering. The Cinnabon flavour was teeth-grittingly sweet but surprisingly accurate in taste, whilst the marshmallow flavour was a little more subtle. The mango was deliciously fruity, while the natural was a sure favourite, with the typical, slightly sour aftertaste.
We opted for a small cup of natural, creamy frozen yogurt (28LE), with three, fresh chocolaty toppings from their wide variety of sweets and toppings; crispy Kitkat chunks, Oreo crumble and M&Ms. Unfortunately, the limited range of fruit pieces appeared a little withered and were running low.
We also opted for a red velvet cookie (5LE), one signature vanilla cupcake (20LE) and two mini cupcakes – Oreo and Nutella flavour (4LE/each). With a soft, crumbly texture, the red velvet cookie tasted more like generic biscuit that red velvet, but was delectable none-the-less.
The vanilla cupcake intrigued us with its bright green icing, decorated to resemble a flower. Sugary and fluffy, the icing was the most delicious part, whilst the thick sponge was a little tasteless. The mini Oreo cupcake was a little burst of chocolaty goodness, while the Nutella cupcake was average and lacking in any real flavour at best, topped with a milk chocolate icing, rather than the expected dollop of rich, sticky nutella.
Whilst Cherry On Top still provide refreshing frozen yogurt to sweltering customers, we couldn't help but feel their cupcakes were somewhat unremarkable this time around.