Cold Stone Creamery: Mouth Watering Ice Cream in Cairo Festival City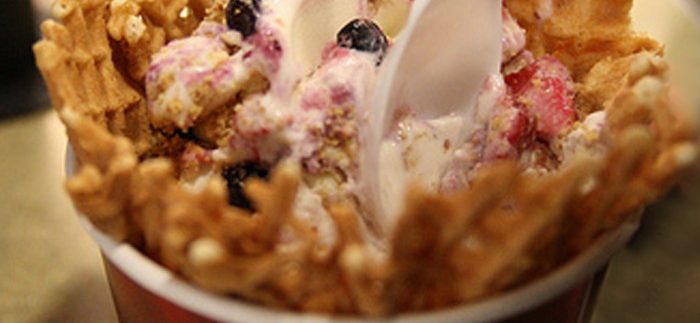 Cairo has no shortage of ice cream parlours. What it does fall short on is ice cream which oozes of pure flavour, rather than oozing artificial flavour. Cold Stone has, in all ways possible, offered us exactly that; delicious, flavourful, icy goodies.
The smell of baked waffle cones attracted us from afar in Cairo Festival City mall and we found ourselves immediately heading towards its source; the intimidating and crowded Cold Stone Creamery. With heaps of people in line ready for their ice cream fix, we almost turned right around, but the colourful display of huge tubs of called out to us. We patiently waited in line and began to inspect the 'creations' menu hanging on the wall.
Our attempts to secure a table whilst also waiting in line failed miserably due to the seating area being too small to accommodate all the customers at the time of our visit. We had no choice but to enjoy our ice-cream on the go.
Cold Stone offers its ice cream in different sizes; ; 'Like it' (12LE/29LE), 'Love It' (24L/35LE) 'Gotta Have It' (36LE/46LE), 'Mine' (48LE/69LE) and 'Ours' (80LE/110LE), with the 'creations' being more expensive than the regular scoops. As soon as we were in front of the ice cream freezer, the server immediately welcomed us and offered us free samples. We tried all kinds of flavours before settling on Cake Batter, Dark Chocolate, Pistachio and Mystic scoops with the first two in a cone and the second two in a regular cup. Our pick from the crazily named creations was the 'Cheesecake Fantasy.'
Upon payment, we dug into our ice cream with no hesitation and immediately fell in love with each and every flavour. If you're one of those people who like to lick cake batter of a spoon whilst baking, you'll find the Cake Batter flavour a God-sent gift for your taste buds. The Dark Chocolate flavour was intense, but not too sweet; perfect for true chocoholics. Tasting purely of freshly roasted pistachios, the Pistachio flavour was truly authentic, while the Mystic flavour, a play on Mesteka, was traditionally sugary and delightfully elastic.
The true showstopper was, however, the 'Cheesecake Fantasy'; filled with strawberries and biscuit bits, it was truly mouth-watering.
All in all, our ice cream cravings were righteously satisfied by everything Cold Stone Creamery had to offer. All the flavours were nothing less than delicious and the staff was also generally friendly and swift. The one let down, however, was our inability to find anywhere to sit and enjoy our ice cream due to the shop's small size and overwhelming crowds.