El Dokan: 'Balady-Chic' Fountain-Side Restaurant & Cafe in Cairo Festival City
Cairo Festival City Mall, Fifth Settlement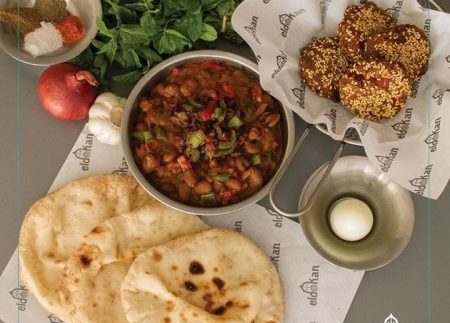 When it comes mall dining, there's a strange phenomenon that continues to grow across the occasionally bemusing Cairo dining scene. Why so many restaurants try to present a fine-dining, full-out food experience in busy and bustling shopping complex is a mystery. The more successful ones are the ones that allow you to grab a quick, uncomplicated bite – which is exactly what we had in mind when we approached El Dokan in New Cairo.
Located right by the dancing fountain in Cairo Festival City Mall, El Dokan's seating is exclusively outdoor, but still quite comfy and cosy. We were greeted by a waiter at the entrance and seated right away. At the time of our visit, the place was bustling with customers, yet in no way felt too crowded, thanks to a sensibly spaced layout.
Our waiter laid out our menus in front of us and we began scanning what turned out to be rather typical balady-chic options. From a variety of Foul platters (9.50LE-26LE), to various Falafel (8.5LE-11LE), egg creations and jazzed-up cheese options, including some delicious sounding grilled halloumi cheese (35LE), El Dokan offers the usual basics but manages to spice them up a bit by offering variations of them. For more main course suited dishes, El Dokan offers an array of feteer, Mana'eesh (37LE-50LE), Shawerma, Koshary (20LE) and Hawashi (25LE), amongst some other Egyptian cuisine-inspired options.
We placed our order and had our drinks – green tea (16LE) and regular tea (13LE) – arrive before our food. Said food, however, arrived a few minutes later and we couldn't wait to dig in. The tomeya (20LE) came in a generous helping accompanied by a balady bread basket and tasted scrumptious enough to be eaten straight off the plate with a fork. The Labneh with Zaatar (20LE) was also light, creamy and definitely delicious.
The Chicken Shawerma platter (45LE) featured thin, unrolled Syrian bread layered beneath chicken chunk, and was cooked and seasoned well, but arriving a bit cold. The Beef Shawerma Sandwich (40LE) was also quite delightful, but had the same issue of not being hot. Once we informed our waiter of the problem, however, he apologised on the spot and offered to reheat our dishes, which took little to no time and saved us some disappointment.
All in all, El Dokan is a pleasant and charming hangout spot, which is partly owed to its prime location by the dancing fountain. The food initially arriving cold was a definite pet peeve, but our waiter managed to save the day by efficiently handling the issue. Though many will point to the fact that the whole balady-chic approach has been exhausted, the fact of the matter is that it's not going away anytime soon and at least El Dokan does it well.