Hookah Lounge: Chilled Shisha Cafe in Heliopolis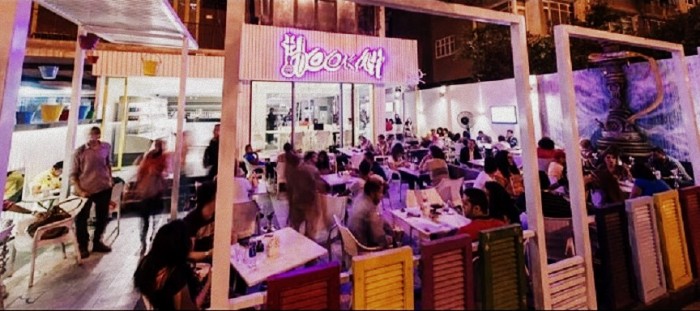 Shisha, hookah, water-pipe – whatever you want to call it, it's every bit as essential to Cairo cafes as chairs and tables are and the majority of places across the city serve it as a key ingredient to the quintessential Egyptian experience.
Located in the bustling Marghany Street, Hookah Lounge stands out with its bright purple sign and white painted walls. We were greeted at the entrance by a waiter, who offered us the choice of either indoor or outdoor seating. Spending any kind of prolonged time outside in Cairo in November is likely to have you shivering to the bone, but Hookah Lounges outdoor area is equipped with surprisingly effective heaters.
We were instantly seated in the mildly crowded lounge without having to wait and had our menus laid out before us in a jiffy.
The design of the place immediately puts you at ease, boasting a laid back white and silver colour scheme. We especially loved the gigantic, colourful shisha design strewn to the side wall and thought it added a rather charming feel to the place.
Going for a rather non-fussy menu, Hookah offers no-fuss mainstream dishes; pastas, pizzas, sandwiches, salads and burgers pretty much dominated the menu. For the shishas, however, they offer a wide range of flavours and mixes.
We placed our order and had our shishas by our sides a few minutes later. The blueberry-vanilla (27LE) was quite heavenly, albeit a bit too strong in flavour. We, nonetheless, loved it. The cherry-vanilla (27LE), which wasn't on the menu, but made as a special request for us, was much lighter than the former and tasted just as delightful. Our coal, however, was not regularly maintained and we had to ask the waiter continuously to change it.
Arriving right after the shishas, our steaming main dishes looked absolutely mouth-watering. The Fried Mozzarella (25 LE) consisted of four large pieces of fried, breaded cheese with a dip and tasted as sinful as deep-fried cheese should taste. Our Chicken Alfredo pasta (49 LE) came in a hefty serving and consisted of penne pasta – as requested – topped with dense white sauce and grilled chicken chunks, sprinkled with parmesan cheese. Though nothing stands out as being extraordinary in the food department, everything was cooked well and served in big, filling portions.
But this being a cafe called Hookah Lounge, the focus is very much on shisha and though it wasn't tended to as regularly as one would like, the quality and variety of the different flavours makes it a haven for shisha fans.