Kayan: Outstanding Pastries at New Zamalek Cafe & Bakery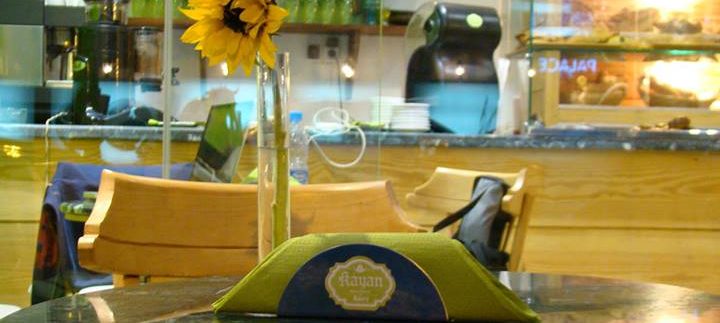 It's no secret that many restaurants and cafes in Cairo flatter with gimmicks, only to provide a mediocre experience, with few standing out as truly unique. Situated at the far end of the peaceful Zamalek's El Adel Abou Bakr Street – immediately opposite Body Shapers – Kayan has transformed casual dining in the area.
Perfect for a light brunch and leisurely session of people-watching, a green and white striped canopy shades four granite-topped tables outside. Cheery sunflower centrepieces coupled with the warm weather transported us to a more European, almost Parisian, location.  
The interior reflects a country-chic but contemporary feel, with garish green walls and shabby-chic wall art. A glass cabinet – and several shelves behind – show off freshly baked, homemade pastries, as well as a wide range of artisan loaves and cakes. Greeted by friendly, welcoming staff, we immediately felt at home.
Whilst the food menus are not yet printed, the owner himself took us through the available, delicious-sounding options. A variety of gourmet steak, chicken, turkey and cheese sandwiches are available, wrapped in baguette, toast or Panini bread. Salads are also offered, along with tempting, sweet and savoury breakfast options. Fresh coffee and juices can be whipped up in seconds; we'd thoroughly recommend their sweet, chilled tangerine juice (15LE).
To eat, we opted for their triple decker chicken club sandwich (35LE) with avocado (7LE), which was nothing less than perfect. Stacked high on warm, buttered white bread, the filling was made up of the freshest ingredients; thick pieces of real chicken breast – as opposed to processed – were grilled to perfection, whilst egg and cheese melted over the ripe salad layers. The avocado was finely chopped and slight,  largely blending in with the rest of the flavours.
We also took away a selection of four sweet pastries (14LE); one pistachio croissant, one peach and one raspberry turnover, as well as a cinnamon swirl. Baked to perfection, the pastry was practically flawless, whilst none of the creations were sickeningly sweet. Contrasting with the fruity flavours of the raspberry and peach jams, the pistachio croissant was subtly flavoured and scrumptious. Our only complaint would be that the cinnamon flavour of the swirl was a little too subtle.   
Kayan offers delicious breakfast and lunch options in an intimate, urbane bistro setting, as well as fine, freshly baked bread and pastry options which can be delivered right to your door.