Les Dames: Sugary Treats at Downtown Katameya Mall, New Cairo
Shop #S2.12, Katameya Down Town Mall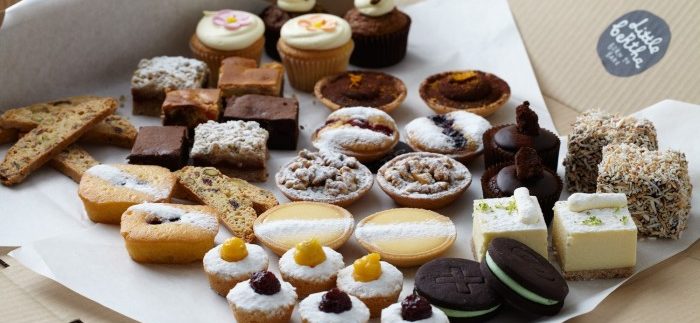 Capitalising on Egyptians' love of sweets, we're seeing more and more new dessert places and cafes in Cairo. Striving to cater for those on the outskirts of the city, popular confectioner, Les Dames, have secured themselves a branch in the fast-expanding Downtown Katameya Mall in New Cairo.
The venue demands attention with its glass-front, turquoise accents and abundance of cake displays. No seating is provided, suggesting that take-away and delivery is preferred, although surprisingly, no menu is available for those who wish to order over the phone.
Whilst the glass display cases at the front are fully stocked, a few of the others were completely bare, leaving a slight feeling of emptiness. Priced by weight, the shop stocks a wide range of oriental sweets, rather flat-looking macaroons, pretty cupcakes, petit fours and biscuits, as well as chocolates. We spotted ready-packaged selections of oriental sweets for 150LE, large, attractive cakes (150LE+/each) and delicious-looking, smaller pastries (10LE+/each). A small range of savoury bites were also on display, as well as a few breakfast croissants, wrapped in cling film.
Although a little standoffish at the start, the large number of staff were both friendly and helpful, pulling on disposable gloves before handling any of our choices. We hand-picked a selection of petit-fours and biscuits (27LE/300g), a plate of basboosa (18LE/400g) and two personal-sized pastries; one chocolate and nut creation, and one large biscuit with apricot jam (10LE/each). Customised cakes can be ordered in advance.
The basboosa was scrumptiously sticky, with a slight crunch – just as it should be. The chocolate and nut gateau was divine, with a rich chocolate sauce on the outside and a soft, spongy centre. Our giant biscuit was also delicious, with a generous spread of fruity jam on the inside and a liberal coating of icing sugar on top.
With hundreds of different petit-fours, we were surprised to find each as tasty and as attractive as the next. The multi-coloured, striped sponge slabs were one of the most interesting, with a hint of marzipan and a sweet chocolate surround. Our only complaint would be that the round, chocolate covered cake-pops were a little dry on the inside, but aromatic nonetheless.
Despite the shop feeling a little empty, the vast range of sweet creations are a safe bet to smoulder any craving, presented in charming boxes, or delivered straight to your door.