Milk Bar: Dairy-Infused Refreshments at Citystars
City Stars Mall - New Food Court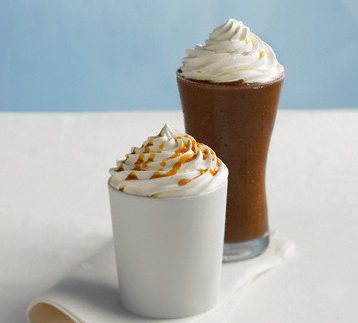 When we were young, we were told that milk
is good for us. As a child, you are forced into your one cup of dairy a day to
keep the doctor away. They promise you strong, blindingly white teeth and
titanium bones. Then, as you get older you find out that almost every diet
tells you to stay away from dairy products unless its organic, lean yoghurt that
comes from an alpine goat that's lived on organic grass its whole life. But even then; not too much. For all kids out
there who aren't too crazy about milk or those adults who still love it, Milk
Bar in Citystars bring you milk with a twist.

The worst part about Milk Bar is that
it's located in the always packed first-floor food court on . You can easily spot
the stand with its bright pink and blue colours. There isn't an extensive menu
or anything. As a matter of fact, there is no menu at all. Instead some of the
available options are on a billboard. The best way to go about ordering is to
choose one of the options and ask which flavours are available. The options are
frozen coffee, milk shakes, smoothies, yogurt creations and ice cream scoops
with diverse dips Warning: upon asking about flavours the initial answer will
be 'all flavours'. However, when we requested quinoa, it wasn't available-
typical.
The available flavours are pretty
bog-standard like strawberry, vanilla, chocolate, mango, kiwi, etc. With the
yoghurt creations you can also pick from fresh fruits. We opted for the
chocolate milk shake (15LE) and the yoghurt creation with fresh strawberries
(15LE). As soon as you give your order, the friendly staff immediately begins
mixing and concocting). The milk used is from the brand Labanita.

The yoghurt
strawberry creation was a bit different to our expectation. We expected it to
be much thicker than it was, and while it tasted good, it was more like a
milkshake than a yoghurt-based drink. Another disappointment came in the way of the
strawberries, which didn't taste the least bit fresh. The chocolate milkshake was
a thick ice-cold blend which tasted delicious. It had a strong chocolate
flavour, but downside of this drink was that it's very heavy on the stomach, and
after a few sips we couldn't take any more.
Milk Bar has a varied amount of dairy
drinks and when in desperate need of some milk infused refreshments you should
definitely try it.