The Batter Half & Co: Zamalek Has Another Bakery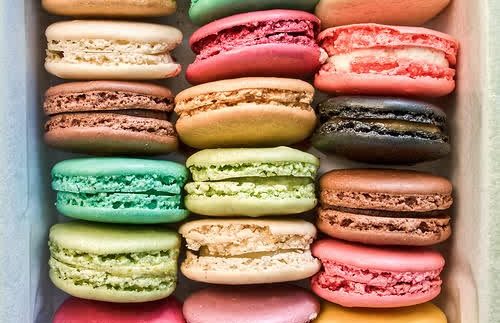 The exterior of the Batter Half was enough to raise our eyebrow in curiosity of what this newest Zamalek venture has to offer. The name in itself is quite clever and its smooth brown façade located in the midst of the nicer part of Mohamed Mazhar, right next to Voila, were all enough reasons to entice us through its doors.
At first, or quick, glimpse while passing by the bakery, a display window with pretty little cakes alludes to Victorian times or wedding cakes for some reason. Upon closer look, we realised that these cakes to be fake. Don't ask.
The interior itself reminded us of a hotel, with a lot of beige stone and brown cladding, and an overall polished look. A counter against the wall invites you to sit and enjoy your cake and sketches on the wall imply that, although they look classic, they are also young and edgy. However, the mismatching only gives the place an incomplete look.
Three fridges stand with the desserts, as well as a few that are placed on the counters around and in between. Most cakes are sold for 180LE, except for the profiteroles cake which is most expensive at 200LE and the date cake which is slightly cheaper at 140LE. A slice of chocolate cake costs 15LE.
There are lots of other choices that include 'cake pops' (5LE) – think cake on a stick – in vanilla, chocolate and red velvet flavours.Cake bars come in all sorts of flavours such as yoghurt, apple and lemon (40LE); and then there a rage that they call 'bites'. The last category encompasses a range of desserts which include Rice Krispies treats (8LE), Maltesers bars (12LE) and chocolate covered Corn Flakes (8LE).
Since we'd recently been on the hunt to discover a good chocolate cake in Cairo, we thought it would only make sense to try the one at the Batter Half. Dark in colour, with milk chocolate icing, it definitely looked promising. However, we found the cake to be very sweet, with an artificial flavour to it, despite it being 'homemade'. We also tried the brownie with cream cheese (12LE), but again, it fell short of our expectations. Tasting more of sugar than that lovely, distinct brownie flavour, it was also a bit heavy.
On the other hand, their blueberry macaroon (one for 5LE, 15 for the price of 12) was very good. Crunchy on the outside, the inside was very soft and wasn't too sweet. Another pleasing choice was the sweet potato with croquant (15LE) where the potatoes were soft and complemented well by the crunchiness of the croquant; the sweetness, though prevalent, was a good match.
Overall the Batter Half was a bit of a disappointment. The name is great, their packaging is different and cool – representing an image of edginess that could have been utilised better – but the stiffness of the interior and the quality of the cakes, thus far, is far from being best in the city.