Yoggy's: DIY Frozen Yoghurt Treats in Mall of Arabia
Mall of Arabia (opposite Gate 2), Juhayna Square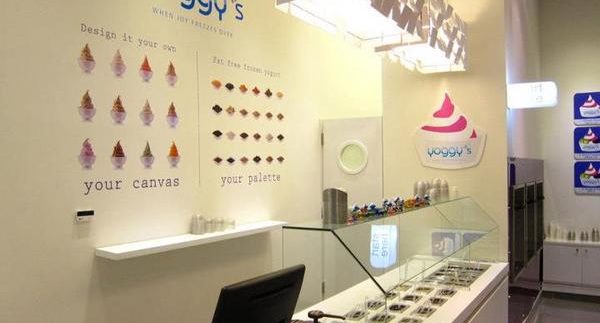 In Cairo,
and the Middle East, the unbearable summer heat reasons ice cream and other
similar frozen treats to be almost as precious as oil, political freedom and
electricity – yes, we like to keep things topical.
Located in
the ever-growing shopping paradise that is Mall of Arabia in 6th of
October City, Yoggy's delivers such cherished treats. The frozen yoghurt vendor
offers Cairenes the chance to create a Frankenstein concoction of their own
using several different flavours of yoghurt and a colourful, texture-rich
myriad of toppings and additives.
The space
at Yoggy's resembles some sort of minimalist, hi-tech Antarctic lab. Dull fluorescent
whites with some colourful accents engross you into a hollowness that is
surprisingly comforting; it feels clean, clinical and unpretentious.
Towards the
back of the space, several machines sit in a corner, each offering a flavour of
frozen yoghurt. Options include custard, pistachio, blueberry and chocolate.
Customers are afforded thimble-sized cups to sample as they please and several
sizes of larger cups are available to suit your appetite.
Yoggy's doesn't
parody ice cream as frozen yoghurt; what comes out of the machines as you pull
the lever is thick, creamy and light. The fact that the yoghurt is fat free
will appease many, but it lacks a sweet kick as a result. The most potent of
the flavours, however, is the chocolate; it's dense and almost overpowering.
Once you've
filled up your cup, you are instinctively drawn to the additives and toppings
which are set out in salad bar arrangement. Said ingredients include everything
from mini marshmallow pieces and gummy bears, to cluster cereals and sliced
fruit.
Any inkling
of excitement is best contained when approaching this stage of the creation.
Although you will feel like the proverbial kid in a candy store, the success of
your end product hinges on the next few decisions you make. Don't get caught up
in the pretty colours and textures; approach these ingredients with science. Chocolate
yoghurt and gummy bears; no. Blueberry yoghurt and banana slices; also a no.
Custard
yoghurt and any of the cereals is an emphatic yes. As is chocolate yoghurt and
marshmallows and pistachio yoghurt with chocolate sauce. You can of course play
it safe and take the plain yoghurt.
Be wary of
how much you will end up spending, though. Each creation is charged by weight;
with 100g setting you back 19LE. It's surprisingly easy to get caught up in the
euphoria only to see the cashier ring up 60LE/70LE on the register.
Mhammoud
Best FroYo in cairo
Write your review