Bentein Men Masr: The Shadow of a Man over the Shadow of a Wall
Zeina, Saba Mubarak, Nehal Anbar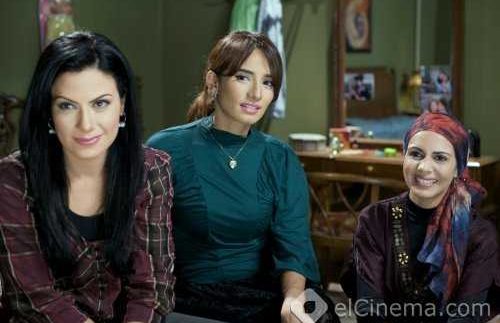 It's easy to fault an Egyptian film for its shortcomings, but Bentein Men Masr (Two Girls from Egypt ) is
executed far beyond your average Egyptian flick with rock solid performances by
its two leads; and that's what makes its crimes even more infuriating. Made
with the best intentions, Bentein Men Masr spends the first ten minutes
trying to dramatise the themes that it deals with, and then the film throws it
all aside and yells out its intentions for the rest of its 130-minute running
time. However, intent is not the same thing as substance, and writer-director
Amin goes through an excessive laundry-list, detailing everything that bothers
him about our society, then congratulating himself and saying 'There, I fixed
it!' If only it was that simple.
Following a Murphy's-law's narrative where anything that can go wrong
will go wrong, Hannan (Zeina) and her cousin Dalia (Mubarak) are two unmarried
women in their early 30s who have hit their sexual prime. All they ever want is
a man, any man. Not having the vaguest idea about what sexual intercourse is;
they kill a lot of screen time by asking married acquaintances that they bump
into to describe the act of love to their virgin ears.

Frustrated to the point
of paranoia, the two women reject the last shred of self-dignity and lower
their standards all the way. One of Hannan's (Arabic for love and care) suitors
takes her to a gynaecologist to make sure that her hymen is intact and she goes
along with it. Yet after making sure that it is still there, he confuses her by
saying he can never truly trust a woman and ends up deserting her all the same.

Hannan joins a support group for the sexually frustrated, and the
exchanges that these women have set back any progress made for women's equality
and integrity by a few centuries. While all the sexual venting is understandable,
if not unintentionally funny, Bentein
slowly takes a darker turn and sadistically subjugates its heroines (who, between
the two of them, cry an entire body of water) to some gruelling turn of events
to which they crumble and react psychotically. In one confusing scene, a baby-crazed
Hannan asks a co-worker to lend her baby so that she can experience
breast-feeding; and her intentions are unclear and somewhat unsettling.
Bentein tips its hat and
wags its finger at this unjust world. Didactic in the worst sense of the word; it
reinforces old misogynistic stereotypes about women only belonging inside a
kitchen, and it mocks their attempts to construct an identity outside the
housewife archetype. As if that's not enough, the film attempts to pass all
these archaic ideas as valuable epiphanies.