Devil's Due: Dull & Predictable Found-Footage Thriller
Allison Miller

Zach Gilford

Matt Bettinelli-Olpin

Tyler Gillett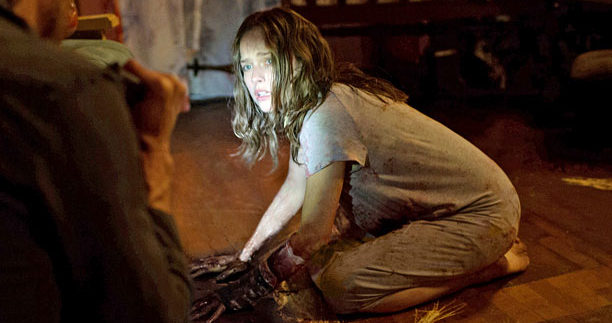 Overdone and outdated, truly scary found-footage horror films are hard to come by these days. Just like the unceasing Paranormal Activity franchise, Devil's Due does very little to contribute to what has very quickly become a hackneyed gimmick.
Directed by V/H/S' Matt Bettinelli-Olpin and Tyler Gillett, Devil's Due is cantered on newlywed couple, Zach (Gilford) and Samantha (Miller), who, shortly after their wedding, head off on their honeymoon to the Dominican Republic.
Every moment of their new life together is videotaped on Zach's camcorder and the couple – while on the lookout for an adventure to commemorate their last night on the island – find themselves in a sketchy area. Coming to their rescue is an overly pleasant cab-driver (Payano) who takes them to a remote underground party located on the outer edge of town.
The following morning, the couple wake with sore heads and foggy memories; without giving it a second thought, they return home. However, soon after their return, they find out that Sam is unexpectedly pregnant, and while Zach is finding it hard to contain his excitement, Sam is overcome with uncertainty and worry.
Their situation worsens when Sam begins experiencing savage and uncontrollable outbursts, agonising morning sickness and an unexplainable thirst for meat and blood. Zach quickly comes to realise that this is no normal pregnancy, as the couple's lives are turned upside down.
Working from a script by newcomer, Lyndsay Devlin, both leads, although at times lost and naively unaware, are surprisingly fitting for their roles. Miller in particular serves up a few intense displays of emotions to great effect.
Taking cues, but none of the drive or quality, from Roman Polanski 1968 horror classic, Rosemary's Baby, Devil's Due does little to help immerse viewers into the story, leaving far too many unanswered questions. Subsequently, gaping plot holes and very little and logic and explanation surrounding the antagonist of the piece make this a redundant watch.
Aside from a few jumps and scares, there is very little here that can validate Devil's Due as anything other than a bandwagon-jumping, fad-following film whose very concept does little to stir the imagination.