Money Monster: Stale & One-Dimensional Look at the Corruption of Wall Street
There's a certain draw to the idea of watching George Clooney and his real-life gal-pal Julia Roberts together on-screen. The duo's fourth movie together, after Ocean's Eleven, Ocean's Twelve and Confessions of a Dangerous Mind, comes in the form of director Jodie Foster's fourth-feature-film, Money Monster; an intriguing but seemingly cheesy and off-balance financial thriller which, despite its brief moments of genuine tension and topical subject, feels empty and somewhat even outdated in its storytelling.
The film tells of Lee Gates (Clooney); a flamboyant TV host of a financial show called 'Money Monster' where he provides advice to his viewers on how, where and when to invest their money. Gates has earned quite a bit of success in doing what he does, though his long-time producer, Patty Fenn (Roberts), is deserving of most of the credit.
Things take a turn, however, when IBIS Global Capital's stock takes a tumbling dive and results in an $800 million loss for its investors – a day after Gates advises viewers to invest. The studio is then taken hostage during a live broadcast by one seemingly irate and explosives-strapped investor, Kyle Budwell (O'Connell), who has lost his entire life savings and blames Gates.
One of the most disappointing things about Money Monster is how predictable it all feels with its socio-political commentary. Attempting to depict the ugly face of Wall Street, the subject is a topical one, yes, but has been covered much more affectively with recent films such as The Big Short and 99 Homes. Adding very little understanding or insight into its subject, Foster keeps things relatively tight in the first half, only to lose focus and complete control in the second when the plot swerves off-course into moments of complete implausibility, as the Julia Roberts' Patty figures that the only way to diffuse the hostage situation is to go digging into IBIS, to provide an explanation to the hostage taker.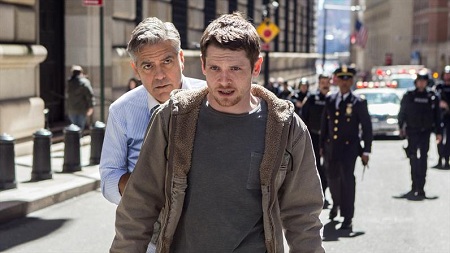 However, Clooney and Roberts share an easy chemistry and seem very much at home with their respective roles, with the former offering just enough charisma as the media pinhead with a heart of gold and Roberts keeping things grounded as his steadfast producer and friend. O'Connell, dubious New York accent aside, is equally convincing, however, the solid performances make little difference. Money Monster is just too contrived, uninvolving and one-dimensional.