Sisters: Cheerfully Crude, But Crude Nonetheless
To call Amy Poehler's and Tina Fey's latest big-screen comedic coupling a total and complete flop, as many have, is an unfair conclusion to draw; however, considering the two comediennes largely solid and acclaimed bodies of work, one can't help but feel a little underwhelmed, and the need to cringe occasionally, by Sisters.
The story is centred on two sisters; the uptight but a relatively positive divorcee, Maura (Poehler), and her older and less-responsible sister, Kate (Fey) – a woman who can't hold down a job and who has once again been evicted from her apartment, much to the disappointed and worry of her young teenage daughter, Haley (Davenport).
The action begins when the two return to their childhood home in Florida as their parents prepare to put it up for sale, only to find that the house has already been sold and they've been called on to clear their rooms. They soon concur to remedy their apparent despair at the sale by throwing one last party at the house, inviting old high school classmates, except their old judgmental nemesis, Brinda (Rudolph). However, the party, which is slow to start at first, soon turns into a full-on rave, forcing the girls not only to deal with the ensuing carnage, but to also question some more important decisions in life.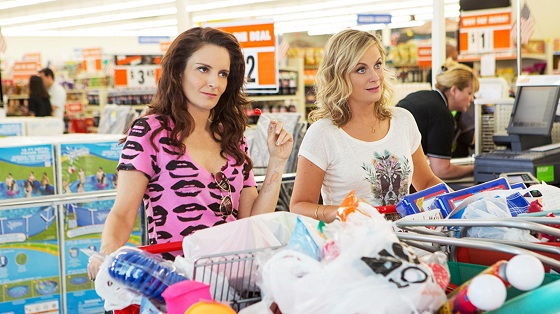 Directed by Pitch Perfect's Jason Moore and scripted by Saturday Night Live's long-standing writer, Paula Pell, Sisters – the first comedy for the comedic duo since Baby Mama in 2008 – is funny in parts, but also completely off the mark in others.
The script, as per its R-rating, is considerably more adult in humour than either actress's common work and it often wades into vulgarity. Granted, it's refreshing to see the duo cut loose, but the film as a whole feels a little overwritten and terribly staged. In addition, the painfully predictable script only adds to the film's loose structure, which ultimately fails to provide the right platform for the girls to show off their comedic chops and the focus needed in tying all of the story threads together.
Both Poehler and Fey offer fine, albeit unmemorable, performances and, although this is far from the best that they have to offer, their easy chemistry keeps things ticking over. This is an easy comedy-watch, but it's an undistinguished one – let's hope this is not a sign of things to come from two actresses that stand as trailblazers in the largely male-dominated world of comedy.