The Dealer: Living the Thug Life
Ahmed El Sakka

Khaled El Nabawy

...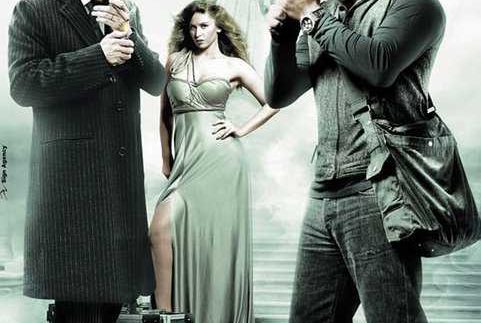 You know you're dealing with a stinker when one of the
two leads asks for his name to be removed from the film's promotional posters and
the other publicly denounces it. The
Dealer is a perfect storm of horridness: the script is bad, the acting
makes it even worse, the staging and pacing are uninspired, and the score ridiculously
shouts for your attention– when composer Moody El Emam is not playing on his Casio
keyboard, he puts on the soundtrack of The
Dark Knight and forgets to stop recording. How can one of the most
anticipated films of 2010 turn out this badly with all these capable people
behind it?
The Dealer
is the pet project of veteran screenwriter Dr Medhat El Adl, who had hailed the film as his
masterpiece and promised to do justice to the gritty and complex drug world in
Egypt. Unfortunately, Dr El Adl offers the perceptiveness only found in awkward
family gatherings turned into a misguided political debate.
Youssef (Sakka) is the rotten son of a devout sheikh, who has
dedicated his life to feuds against his archenemy Ali (Nabawy). Never outgrowing their rivalry, the two keep
jumping down each other's throat until one day Ali gets a chance to leave the
country. For old time's sake, Youssef asks Ali to smuggle him out of the
country and promises to pay him double his usual asking price. Ali agrees only
to later hand Youssef over to the cops, and as a result; Youssef ends up
spending two years behind bars. If you're trying to wrap your head around the
holes in this set-up; don't even bother. How Ali got involved in human traffic
just by virtue of purchasing a ticket or why Ali got arrested are small details
that The Dealer is too busy to
clarify.
Both of them
end up in European countries with close proximity to Egypt and cheap shooting
permits. They sell a white, powdered illegal substance referred to as drugs,
and that's as specific as The Dealer
can get. The rest of the simplistic story deals with the international drug
market and unfolds like a bum's fever dream. And like dreams, events take odd
turns without any explanation. The plot-holes and logical flaws in the film are
too colossal to ignore and too many for comfort.
Usually one
doesn't expect much from a summer action film about drug dealing, and at worst,
one might find them harmless. However, the film's 150-minute-long running time makes it hard to bear with its repeated failures.
There isn't a single redeeming quality about the film to latch onto. The film's
idea of what constitutes as entertainment is best exemplified in its posters,
where the two leads are insatiably smoking cigarettes: it's outdated, childish
and really bad for you.