The Finest Hours: Nautical Rescue Drama Just About Keeps its Head Above Water
Ben Foster

Casey Affleck

...
Inspired by Casey Sherman and Michael J Tourgias' 2009 non-fiction book, The Finest Hours: The True Story of the U.S Coast Guard's Most Daring Sea Rescue, Craig Gillespie's rescue-drama is an occasionally compelling film, but bearing in mind this is supposed to be the retelling of one of the greatest sea rescues in the history of sea rescues, the end-result is a little flatter and isn't distinguished as one might expect.
Taking place on 1952, off the coast of Massachusetts, a raging storm has caused two oil tankers – the SS Fort Mercer and SS Pendleton – to split in half. While most of the rescue boats have been deployed to assist the Mercer, the crew on Pendleton – led by the first assistant engineer, Ray Sybert (Affleck) – weren't able to send out a rescue signal and are now left at the mercy of the sea.
Meanwhile on land, docile-looking Coast Guard captain, Bernie (Pine) has been given instructions by his commanding officer, Daniel (Bana) to undertake the risky rescue-mission after the Pendleton's location is discovered. Aware of the consequences, Bernie, along with a handful of men, heads out into the stormy night.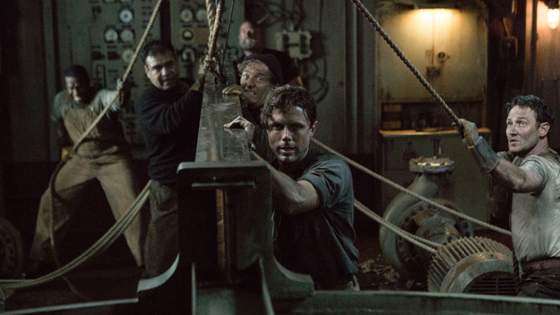 What keeps The Finest Hours afloat, so to speak, is the fact that it's inspired by real-life events – this in itself gives the plot a sense of gravitas. If this was a fictional plot, however, it would have been thrown out long before it reached the big screen, despite, for the most part, telling its story in a relatively compelling and capable manner.
The problem is that it's all a little run-of-the-mill. Giving the subjects of loyalty and bravery the classic, melodramatic Hollywood touch, the familiarity of the story is inviting, yes, but it's also highly derivative and predictable. In addition, the nautical jargon used in the film is confusing and keeping up with the technicalities distracts from the human elements of the plot.
However, the film's biggest setback comes with the decision to screen it in 3D, which is not only distracting, but also terribly disorienting; most of the film takes place at night, so trying to keep up with what's going on is almost impossible.
The performances offered by what is a solid cast, meanwhile, are engaging enough to keep things balanced – Pine is surprisingly reserved but affective, while Affleck shines as the skilful engineer. Overall, though, it's just not strong or heartfelt enough to keep its head above water (sorry, we can't help it) and deliver a story which fitting of its real-life story.