The Forest: Bland Horror Makes a Mess of Aokigahara Legend
Taking on a backdrop as hauntingly intriguing as Japan's Aokigahara – also known as the Suicide Forest – Jason Zada's The Forest, could have gone a long way. Unfortunately, though, there aren't many quality scares on display in this latest horror flop which spends most of its time over-explaining itself while offering very little excitement or interesting insight into its terribly unexplored and uncreative world of spirits.
The story is centred on Sara Price (Game of Throne's Natalie Dormer) who has shared a special connection to her twin sister, Jess (also played by Dormer), since childhood. So, when Sara hears that her sister, who's working as an English teacher in Tokyo, has been reported missing and was last seen going into the Aokigahara Forest – a place where people go to commit suicide – she decides to get on a plane and head to Japan to look for her.
Once there, she is soon introduced to the legend of the dark forest and the supposed evil spirits that reside within who, apparently, have the power to drive people to commit suicide. Unmoved by the myth, Sara soon meets a travelling journalist, Aiden (Kinney), who helps her arrange for a forest guide, Michi (Ozawa), to take them through the dense woods in search of her sister.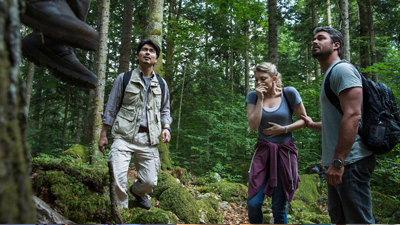 In the run-up to the release of Jason Zada's directorial debut, expectations were on the low side for as a January release – a month fondly known in Hollywood as 'dumping month', where doomed films go to hide. Written by Nick Antosca, Sarah Cornwell and Ben Ketai, The Forest's premise sounds promising – the mysteries of Aokigahara are still a big talking point in Japan – and Zada, bearing in mind that his directorial experience is very limited, starts things off with a relatively strong note. However, although its deliberately slow-build up and lack of jump-scares is refreshing, horror film clichés – including questionable moves by the lead characters, predictability and repetitiveness – soon take over, diminishing any potential the story may have had in the beginning.
Leading us through the forest is Natalie Dormer who, despite the film's many shortcomings, is a relatively solid lead and is able to muster up enough conviction to make us follow her on her rescue mission. It's a shame that Zada and his team of writers couldn't do the same.