The Jungle Book: Disney's Grand Revisit of Kipling Classic
Ben Kingsley

Bill Murray

...
Many were concerned that Disney's revisit to the story of Jungle Book would find it hard to be as fun or as magical as the original. Luckily, however, with an excellent voice cast and an impressive array of visuals, The Jungle Book is something of a technical marvel which manages to retain the heart and the essence of the story's long-established roots.
Mowgli (Sethi) is a young boy – a.k.a 'man-cub' – who was found abandoned in the Indian jungle by a panther named Bagheera (voiced brilliantly by Kingsley) when he was only a toddler. Brought up by a wolf pack – led by leader Akela (Esposito) – Mowgli has been accepted as one of the jungle's own.
However, there's one member of the jungle who's not so keen on having a human living in their midst; vicious Bengal tiger, Shere Khan (the absolutely magnificent Edris Elba), worries that the boy will soon grow into a ruthless man who will bring nothing but destruction and devastation to them all. Coming to the conclusion that it's in everyone's best interest if he leaves, Mowgli embarks on a journey through the jungle where he meets and quickly befriends a friendly bear named Baloo (the always excellent Bill Murray) who convinces the young boy to stay, as he finds himself returning home to face Khan.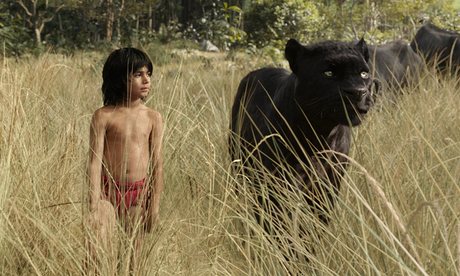 Infusing the story with plenty of heart and an incredible sense of visual grandeur, director Jon Favreau and writer Justin Marks pull together elements from both the Disney's 1967 animated adaptation and Rudyard Kipling's original collection of stories to great effect. In addition, there are refreshingly darker, less happy-go-lucky moments throughout the film, with Elba's chief antagonist, Khan, being astonishingly affective as the villain of the piece, while Johansson's Kaa is just as hair-raising.
The brilliant voice performances, which give their gorgeously rendered and astonishingly real-looking CGI-generated characters plenty of personality, charm and wit, is definitely one of the strongest aspects of the story, with Elba and Murray coming out on top as the most scene-stealing of the bunch. Sethi is equally wonderful as the young Mowgli, filling his character with plenty of genuine childlike wonder, while Walken is absolutely superb as the singing Gigantopithecus, King Louie.
Wonderfully told and gorgeous to look at, The Jungle Book is not only a marvellous technical achievement in filmmaking, but a commendable and surprising achievement in storytelling.