The Wedding Ringer: Funny but Forgettable Rom-Com
For all its faults and missteps, The Wedding Ringer – a film best described as a cross-between Hitch, I Love You Man and the Wedding Crashers – is difficult to dislike. Then again, its underdeveloped ideas of 'bromance' and its continual wandering into stereotypes and clichés, makes it exceptionally difficult to really like the wedding-based comedy, either.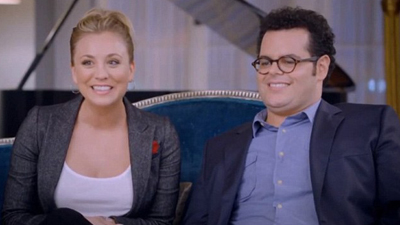 The story follows Doug Harris (Gad); a wealthy but socially-awkward financial analyst, who we meet as he prepares to marry his beautiful fiancée, Gretchen Palmer (Cuoco-Sweeting). As someone who has dedicated most of his life to work, Doug has had very little time to make close friends; a situation which has now left him with zero groomsmen – let alone a best man – to stand by his side on the big day.
After a few failed attempts to reach out to old college and primary school classmates, Doug – who would rather die than come clean to Gretchen and tell her everything he has said about his friends is entirely made up – reaches out to Jimmy Callahan (Hart) in one last Hail Mary attempt; an enthusiastic, self-proclaimed 'Wedding Ringer' who offers best-man rental services to guys just like Doug.
However, during all of his time in the business, Jimmy has never seen a more hopeless case than Doug's who not only need sa best-man for the day but a whole crew of groomsmen, challenging Jimmy to pull-off something no other Ringer has done before; a special service titled 'The Golden Tux'. With only ten days to carry out the impossible, Jimmy soon starts calling in favours and as the wedding day approaches, Doug's personal attachment to his newly-found buddies soon begins to threaten Jimmy's strictly-business rule of conduct.
As far as its comedic efforts go, The Wedding Ringer has a handful of humorous and entertaining moments to call its own. But as a whole, the film is riddled with clichés and low-brow humour.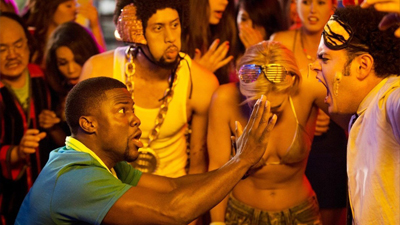 Underr the direction of first time director, Jeremy Garelick, a lot of suspension of disbelief is needed throughout and though references to classics of Hollywood such The Goonies and The Usual Suspects are mildly amusing, it does little to cover up the many cracks.
Luckily, both Gad and Hart make for an entertaining onscreen pairing and the two end up sharing a few highly amusing moments together – including one comical and well-choreographed dance sequence. However, there's an imbalance in the plot development that, by the end of the slapstick shenanigans and unlikely situations, leave you without any real pay-off.