Wreck-It Ralph: When Video Games Come Alive
Jack McBrayer

Jane Lynch

...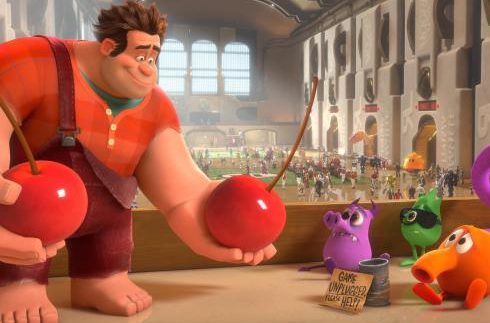 The golden age of arcade video games lasted from the late 70's to the mid 90's. For those who had the pleasure of hitting the arcades during that period, know what it's like to save your pennies and spend time with the likes of Super Mario Bros, Pac-Man, Sonic, plus many more.
The fifty second titles made by Walt Disney Animation Studios – recent title releases include
Bolt
(2008) and
Tangled
(2010) –
Wreck-It Ralph
steps up to the plate by paying homage to old school arcade games. This immensely layered and imaginative universe of video-gaming delivers nothing but sweet goodness.
Endlessly colourful and charming,
Wreck-it Ralph
tells a story of a villain Ralph, (voiced splendidly by Reilly) who is one of the leading characters in the coin-op game 'Fix-it-Felix Jr.' Always being labelled as 'the bad guy', even though his character is programmed that way, Ralph is tired and wants out. Not only is he constantly overshadowed by the hero of the game Fix-it-Felix Jr. (McBrayer) – who fixes everything that Ralph destroys with the help of his magic hammer – Ralph is also shunned by the rest of the characters who live in the building that
Wreck-It Ralph
demolishes.
Considered an outsider, Ralph's strong fists are neither welcome nor appreciated.
Desperate for some love and admiration, Ralph goes on a game-hopping quest and fiddles his way into a first-person shooter game 'Hero's Duty', where that gold medal can be attained – a prize that Ralph believes will put his 'bad-boy' rep to sleep. The ferocious game is led by hard-hitting Commander Calhoun (Lynch) who runs a very tight ship, but fails to notice that an outsider has stepped into the game. Ralph is completely oblivious to the fact that his actions carry some heavy consequences and will soon open the doors of hell to the world of video-gaming.
Director Rich Moore, together with the astounding writing of Phil Johnston and Jennifer Lee, has managed to create a remarkable alternate universe of game characters living in a the video-game arcade; a space where all of the characters – including real-life gaming icons from
Sonic the Hedgehog
,
Street Fighter
and
Pac-man
, amongst others – have a purpose and a place to call home.
Nothing seems over-the-top and it's easy to keep up with the story, even when it does decide to go slightly more erratic. The attention to detail is one of the film's most notable attributes when it comes to bringing this fictional universe to life.
Moore, who made his name with The Simpsons (1989-present), made sure that Wreck-it-Ralph amuses and considers all types of viewers. Whether you're a child, a nostalgic arcade-gamer or just a kid at heart, there is plenty to go around.
From beginning to finish, all of the performances are top-notch. Leading character Ralph is voiced beautifully by O'Reilly, giving the character a soul. Lynch, known for her tough and domineering nature à la Glee, shines as Commander Calhoun; while Silverman – as the voice of the feisty Venellope Von Schweetz from another video game – takes away the most notable performance award. Her crackly, diminutive voice suits the cheeky girl's character and wins the most laughs.
Super-smart and funny,
Wreck-It Ralph
's journey is both creative and inviting.