Ahmed & Abdou Beauty Salon: Professional Hair Cuts in Sun City, Heliopolis
Third Floor, Sun City, Autostrad Road, Sheraton Buildings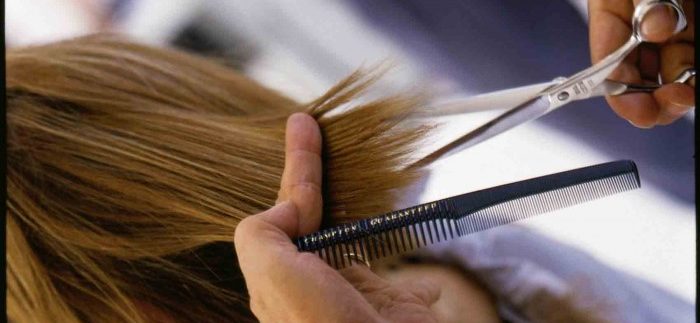 Combining shopping and beauty salons in Cairo results in a definitively win-win situation. Hidden in the far back of the third floor in Heliopolis' Sun City shopping mall, beauty salon, Ahmed & Abdou, have opened their first salon for both men and women, offering everything from hair treatments, manicures, make-up applications and hair removal.
Stepping inside, we were greeted at the reception and led inside to the main salon floor; we noticed that to the side of the receptionist's desk was a small enclosure dedicated to a barber shop for men. The women's area is far larger however, decorated with garish red vinyl patterns, accented by modern, black and white geometrical shapes whilst the comfortable waiting area is complete with a mixture of couches and chairs.
In addition to the fully-equipped hair stations, we also noticed three large pedicure chairs and a small manicure bar discreetly positioned at the side of the room. The nail varnishes used are on display at the entrance of the shop and include reputable L'Oreal products and a few from obscure brands.
Following the assistant, we were seated at an available hair basin and given a monogrammed towel to drape over our shoulders. The chairs and position of the basin was almost unbearably uncomfortable, leaving us in physical pain through the duration of the wash. Back-pain aside, the assistant provided us with a deep scalp massage that we so desperately wanted to enjoy.
After the washing, we awaited our hairdresser on yet another uncomfortable chair. Arriving a short while after, our stylist arrived dragging a portable organiser with a neatly organised compartments. We requested a quick trim (100LE), as well as a blow-dry and curling (80LE). Opting to avoid an unnecessary power struggle on the styling, we gave him the creative liberty to work as he saw fit.
Though he was off to a rather slow start, he quickly assessed our previous haircut before snipping a few ends, before he was satisfied enough to start on the fringe. Apprehensive at his somewhat haphazard style, we were immediately put at ease when he all but took out a protractor to measure which fringe style would suit our face the most. With the haircut over, an assistant came over to remove our cape and clean up the stray hairs on the floor.
For the blow-drying and curling, it was a rather typical experience, though we did note the extra volume added to our hair. The hair was then curled, befor finally, after a quick spritz of hairspray, the treatment was complete.
While the interior of Ahmed & Abdou is a rather tacky ploy to appear high-end, the experience and talent of the staff is not. Arguably, this is one of the only redeeming factors used to justify the unexpectedly high-prices of the treatments at the salon.