Pace e Luce: Modern Salon Heliopolis
40 Thawra Street, 1st Floor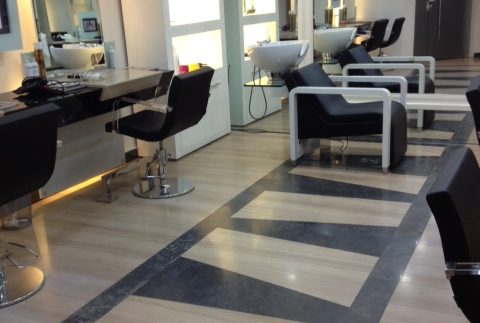 Lebanese hair and beauty salon, Pace e Luce, have opened their second branch in Cairo, located on the first floor of the Emaar building in Heliopolis. Being regulars of their Maadi salon and desperately needing some sun-kissed highlights (500LE), roots (200LE) and a mani-pedi (125LE), we headed out for some after-work, routine pampering.
The building is an impressive one and the elevator is situated in a marble lined lobby. There are no signs to guide you to the salon, so be careful not to get out on the wrong floor; you may be greeted with a pile of rubble, rather than an impressive Pace e Luce sign.
Entering the double doors, you will find yourself standing in the middle of the busy hair salon, where the décor is much the same as the Maadi branch – modern, sleek and clean with small plasma TVs switched to Pace e Luce's own hair and beauty advertising.
Guided to a separate room, and because we were tight on time, two women, neither of whom spoke English, began preparing us for the pedicure. Each white leather arm chair has its own white basin and a side-table for manicure utensils. After soaking our feet for a couple of minutes in a bubbly foot bath, the pedicuring routine began; an exfoliating scrub, a deep massage and threading of any unsightly hairs.
The only thing worthy of complaint was that the nail clippers were a little blunt and our nail clippings were free to fly everywhere, including into our shoes. After two coats of gorgeous, deep red 'Orly' nail polish – which is also available to buy (80LE) – was applied to our toenails, we were given a pair of rubbery flip flops to wear during our trip back to the hair salon.
Once we'd become acquainted with our appointed hair dresser, and after the bilingual receptionist explained to him that we wanted a full head of roots and half a head of platinum highlights, one of the trainees set about making us feel welcome, while the main hairdresser looked on but never smiled at us – not even once throughout our whole visit.
After getting our hair washed in a relaxing, reclining chair in front of the basins, the assistant was careful not to tug our hair as he brushed, dried it and then proceeded to apply the bleach to our roots carefully, making sure he covered every give-away brown hair. As in many salons in Egypt, the beautician manicured our nails whilst the hairdresser fiddled with our locks – and we were very pleased with the tidy results. Our hair was then re-washed and dried before the hairdresser set to work on the half head of highlights.
Once all of this was eventually finished, it was 10PM and, feeling a bit bored and frustrated, we left without the extra 100LE blow dry and brushing – which in our opinion should be included as part of the overall
package.
Ultimately we couldn't complain about the
colour results; it didn't look like the picture we'd shown, but they
were platinum highlights nonetheless. The fact that neither the
beauticians nor the hairdresser could speak a word of English was both
frustrating and a little unusual as the staff at their Maadi branch manage much better.
We were advised to book our appointment for 6.30PM as the
salon closes at 8PM, which seems a bit early considering the amount of
beautifying required for events and parties at the weekends. Despite
this, we were able to stay until all of our treatments were completed –
two hours after the closing time.