Kheimet El Sohbageia: Bland Sohour at Dandy Mega Mall's Bland Ramadan Tent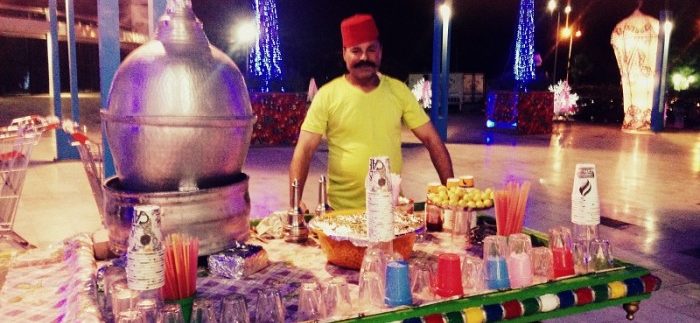 Ramadan 2014 in Cairo has been a strange one. Unlike previous years, there's little do in the way of events, leaving Ramadan tents – or kheimas – to shine. The World Cup has dominated khemas this year, leaving us wondering when the Ramadan spirit will well and truly kick in.
But serving a couple of shishas, throwing a few slices of cheese onto a plate and a couple of Ramadan juices does not quite constitute a Ramadan kheima. In Kheimet El Sohbageia, located in Dandy Mall, this is the case.
Set by the back entrance on the left side of Dandy Mega Mall, the so-called Kheimet El Sohbageia fell short in most, if not all, the criteria for a quintessential Ramadan tent. Whether it was the average food, the strange atmosphere, or the poor service, the place was a complete disappointment.
The arrangement of the kheima itself was off and rather confusing. A few tables and chairs were scattered outside by the main entrance, while inside the mall there was a shabby seating area.
Since the indoor area did not seem at all appealing and rather depressing, with a stone-faced looking man playing the Oud, we opted for the outdoor area, which wasn't much better.
We understand that people want to celebrate this month with traditional Arabic music, but when it's reaches the point where you can't hear the person next to you talking, it's probably too loud.
The one thing we actually appreciated was the inclusion of traditional food carts by the entrance, serving foul, termes, hommos el sham, sweet potatoes and corn cobs.
We opted for the Hommos El Sham, served in a small paper cup with hot chilli marinated chickpeas. It wasn't special or different, but still the highlight of the night.
The menu itself didn't include many Sohour options; we opted for a Chicken Shawerma Sandwich (22LE) and the Sohour Megama3 (38LE), which includes, foul and falafel, boiled eggs, yoghurt, white cheese and a breadbasket.
There's not much to tell about the shawerma besides that there was far too much bread. Tiny morsels of bland, and almost tasteless, chicken in cold bread marks a definite miss.
From the Sohour Megama3, the white cheese was served first. Cut into triangular pieces and void of any tomatoes, cucumbers or seasoning, there was barely a dish to speak of.
Next came the falafel and boiled eggs; while the falafel where crispy and hot on the outside, on the inside they were dripping oil, which left little room for any flavour. The boiled eggs, meanwhile, were, well boiled eggs.
For some reason we were served baba ghanough, which looked far from fresh, with our breadbasket instead of the yoghurt, no one cared to explain what happened there.
The one important Sohour dish that almost all Egyptians have was served last, after we asked for it three times. Tasting like canned foul that didn't even get a dash of salt, it wasn't worth the wait.
While definitely not worth going to for food, Kheimet El Sohbageia is, at most, a pit stop for a shisha if you're really desperate.