3agina: Creative, Quirky Feteer In Zamalek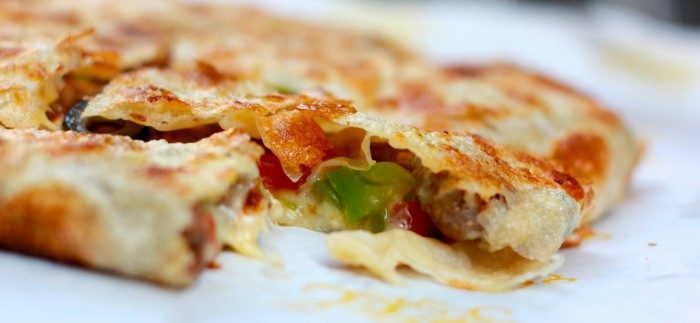 As a classic Egyptian dish, feteer is widely enjoyed across many restaurants in Cairo; it's a meal that's ready to satisfy and rarely disappoints. With countless bakeries serving the carb-packed goodies, feteer is a guaranteed tummy-filler when venturing into even the most unexplored regions of the capital.
Sharing an intimate alley off Zamalek's Shagaret El Dor Street with El 7ara, 3agina serve simple, feteer meals. Unfortunartely space in the enclosure is at a premium and the venue has no seating. While the balady layout of the alley will certainly tease patrons waiting for their feteer on foot, sitting down would cost them the 50LE minimum as charged by El 7ara.
Savoury options on the menu included sogo' (26.95LE), smoked salmon (35.95LE), cold cuts (26.95LE) and ratatouille (26.95). Other choices available include feteer wraps such as beef (19.95LE) or chicken (19.95LE) shawerma, falafel (13.95LE) along with egg and basterma (15.95LE). For dessert, sweet options include lemon pudding (20.95LE), apple crumble (27.95LE), mahalabeya and halawa (22.95) amongst others.
While promising so many pleasing options, too many of their ingredients were missing. There were no eggplants or zucchinis, meaning that the ratatouille feteer would have been made with nothing more than green peppers and mozzarella. The banana feteer also sounded delicious, with caramel pudding and fresh banana cuts, only they had no pudding.
Looking through the unattractive photocopied menu, we ended up settling on our choices based on availability. We opted for four scrumptious feteers; one chicken (24.95LE), a mixed cheese (21.95LE), Nutella (29.95LE) and custard (24.95LE).
Instead of being sliced pan pastries as feteer is conventionally served, the wraps see the dough rolled into a tube and stuffed with ingredients, in similar fashion to a sandwich wrap
Despite the limited availability of many of their items, the feteers options that we were able to go for were surprisingly good; the pastry was baked into a fabulous texture which sat pleasantly between crunchy and soft.
The chicken feteer was our favourite; the chicken had a fantastic smoky taste and was handsomely complimented with a thick mayonnaise sauce. The mixed cheese was also packed with flavour and was baked with cheddar, mozzarella, roomy and cream cheese.
The Nutella feteer was, thankfully, conservatively stuffed, though we were disappointed that the marshmallows mentioned in the menu weren't included. Also tasty, the custard had been prepared with very little sugar, meaning that when the baker added powdered sugar, the feteer didn't taste like a recipe for diabetes.
While they offer inventive, enjoyable feteer dishes, 3agina's potential is spoiled by too many shortcomings that make it hard to accept their expensive prices. For the time being though, whatever options are available are best enjoyed eaten in.