Abou Mazen: Syrian-Inspired Takeaway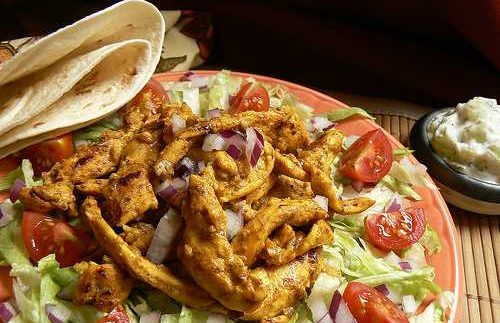 Egyptian street food can get monotonous. For a Syrian
spin on oriental takeaway classics, try Abou Mazen, one of Heliopolis' most popular baladi eateries. Abou Mazen can be
counted on for consistently delivering up fast, yummy and inexpensive
sandwiches and salads.
Let's start with the falafel sandwiches (3LE). Three freshly
fried falafel balls, green salad, pickles and tehina sauce are all wrapped up and
pressed in Syrian flat bread. This falafel sandwich will no doubt change the
way that you eat and appreciate falafel. It's everything that a falafel
sandwich should be: crunchy, fresh-tasting and full of flavour.
Shawerma (8LE), both chicken and beef, is a house
specialty. The shawerma meat is cut to order and mixed with finely chopped
onions, peppers, tomatoes, pickles and the right amount of tehina sauce. Unlike
other shawerma sandwiches in Cairo,
this one lets you enjoy the quality of the meat and ingredients because of its thin
bread.
Abou Mazen also makes lots of great vegetarian
sandwiches. The mixed vegetables sandwich (4LE) consists of peas, carrots,
onions, peppers and tomatoes cooked with cumin and curry and wrapped in one large
piece of Syrian flat bread. Living up to the Syrian tradition, there are also zaatar
sandwiches; which are delicious if you love zaatar, but they are quite full of
flavour. The zaatar with cheese sandwich takes some of the edge off and is
highly recommended.
If you're looking for a good fattoush for under 5LE; look
no further. Abou Mazen makes a great fattoush salad of ripe tomatoes and
peppers tossed with mixed spices and olive oil. The crispy bread crowns the
salad and comes in large pieces. It's never soggy and is a perfect complement to
one of Abou Mazen's sandwiches.
Abou Mazen is open 24 hours, seven days a week, and nothing
costs more than 10LE. It's one of the few places in Heliopolis that delivers fast and delicious food
at all hours of the morning. Many people also simply park in front of the shop
and get served from their cars. We recommend ordering the Nutella fiteer hot
off the grill; it's one of the best chocolate pancakes in town.