Afamia El Sham: New Syrian Restaurant in Maadi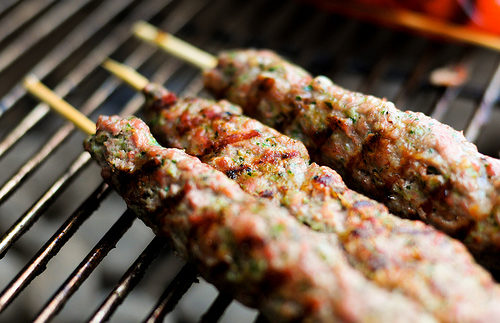 Joining the ranks of the plethora of Syrian restaurants in Cairo, Afamia El Sham has opened its doors for business on the busy El Nasr Street in Maadi.
Taking its name from the beautiful Seleucid Empire City of Apamea, Afamia El Sham boasts all the classical Levant cuisine dishes including mana'eesh, fattah, and grilled meats and chicken in addition to cold and warm appetisers including labna, taboula, hummus and mhamara.
The restaurant itself is wonderfully designed in a warm beige and brown colour scheme, accentuated by turquoise blue. With stone-clad walls at the entrance and an easy on the eyes decor, the restaurant is both inviting and comfortable to eat in.
The friendly waiters greet you at the door and walk you to your table, handing you an extremely extensive menu with a little story on the history of Apamea from the ancient Greek city, through the Hellenistic period and finally into the Seleucid Empire.
From the appetisers, we opted for hummus with meat (22LE); a bowl of ground hummus served with shawerma meat in the centre. While creating a great contrast between the hummus and fatty shawerma, some might find the appetizer a little too greasy or heavy, but it's a matter of taste.
From the main courses we opted for a Kofta Meal (40LE) and Shish Taouk (35.5LE). person who has had Shami grill knows it differs ever-so-slightly from the Egyptian grill. Essentially, it's ostly a matter of seasoning in beef, but with poultry it's a matter of white meat vs. red meat with the Egyptian variation normally using the latter.
Both meals are served with your choice of French fries or rice, but also include Syrian bread, a small salad and garlic dip. In the Kofta meal, you receive four skewers of tasty and slightly greasy meat covered in two loafs of spiced Syrian bread. The spice in the bread is the same as you'd taste in Arayes; a dish similar to hawawshi but involves a seasoning to the bread that includes tomatoes, onions garlic and parsley. The mixture made for great kofta wraps with the French fries and garlic dip.
The Taouk meal, sadly, didn't compare. While all other aspects of the dish were the same, the chicken didn't burst with flavour as well as it should've. Taouk is very heavily marinated and can occasionally taste a little spicy, but in this case, unfortunately, it was not up to par.
While the overall experience was a pleasant one, plenty of competition means that Afamia El Sham – as it stands now – could get lost in the middle of the pack. That is unless the restaurant nails down a consistency of sorts.