Al Mokhtar: Solid Lebanese Food In Mohandiseen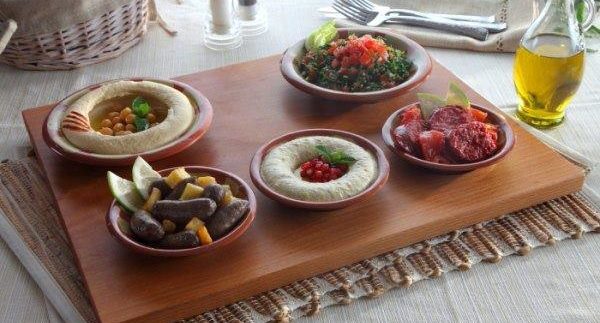 Lebanese restaurants in Cairo continue to flourish on the local dining scene, for both its familiarity and similarities to Egyptian cuisine, and its bold twist. Located on a busy corner of Gameat El Dowal Street in Mohandiseen, Al Mokhtar is yet another eatery offering traditional, Lebanese meals.
The restaurant boasts a classy ambience, complimented by white walls adorned with intricate, hand-drawn murals. While the ground floor features an ordering counter and high tables with stools, upstairs is a spacious seating area overlooking the busy traffic of Mohandiseen. The seating features tables of four and six, as well as those that can seat over ten patrons.
The menu at Al Mokhtar is vast and varied. Appetsers such as fattoush (16LE), tabboula (16LE), hummus beiruty (17LE), kebbeh (20LE) and of course stuffed vine leaves (20LE) are available. Along with a wide selection of manaqeesh (14LE – 22LE), there are also beef and chicken shawermas offered in an assortment of breads (17LE- 19LE), and more common options such as burgers (20LE – 27LE) and pizza (33LE – 40LE).
We ordered stuffed vine leaves, kebeh bel laban (24LE) – meat dumplings with yoghurt sauce – and a minced meat (20LE) manoucheh, along with hummus beiruty and tomeya (8LE) dips for appetisers. We then enjoyed a chicken fransisco sandwich (22LE), beef shawerma in saj bread (18LE) and a spicy kofta wrap (16LE).
After a short time, we were brought the vine leaves and hummus Beiruty, without bread. Although the vine leaves were tasty, they were peculiarly served without stuffing. On the other hand, the hummus Beiruty tasted fabulous as a dip, with added herbs, spices, and diced vegetables.
The bread eventually arrived and was definitely worth the wait; fresh out of the oven, it was steaming hot and fluffy. Despite being well-made with plenty of garlic, the taameya was slightly on the salty side.
We were impressed with the minced meat manoucheh, which, unlike the pizza-similar manaqeesh usually found in Cairo, features a thin sheet of pastry, giving room for the meat flavour to dominate as opposed to the dough.
The sandwiches, meanwhile, varied in quality. The beef shawerma was covered with a generous sprinkle of herbs and spices, without being overtly salted. Meanwhile, the spicy kofta sandwich boasted quality, lean meat and soft, fresh bread, but could have used more seasoning. The worst of the three sandwiches, however, was the chicken Francisco; served in fino bread, the sandwich was made with slices of processed cheese, canned corn and more lettuce than grilled chicken.
It appears that Al Mokhtar is one those venues that offer a wide variety of foods, but at the risk of inconsistency. That said, with reasonable prices, polite staff and filling food, there are plenty of well-made Lebanese dishes to be enjoyed.