Ali Baba: Döner Kebab Now in Zamalek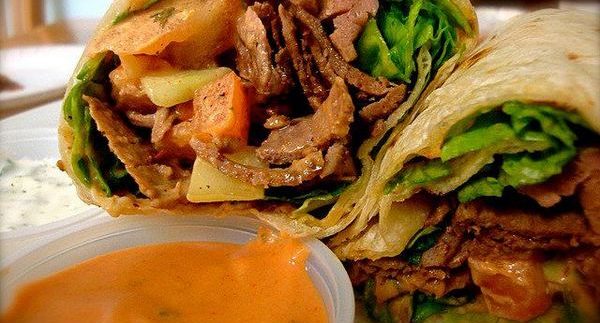 Maybe it was
because we were really looking forward to the opening. Maybe it was because our
previous döner experience at Adam's & Blend was so good. Maybe it was
because all the previews looked so delicious. Either way, we skipped along to Ali Baba with high hopes.

Recently
opened on Taha Hussein Street next to Munch & Bagel, Ali Baba comes from the same folks behind Top Dawgs. It seems like these youngsters are rapidly taking over the
Egyptian fast food market.

A relatively small
venue, Ali Baba works on a take away basis; there is no seating, just a pick-up counter for orders. The kitchen is visible so there's
no room for skepticism since you can keep a close eye on the food's
preparation.
The menu isn't very
diverse: there is either Döner Kebab (19LE) or Durum Kebab (16LE). For 10LE
extra you can convert your single sandwich into a combo with fries and a soft
drink.
We started off with
the Döner Kebab, which came in thick bread with lots of lettuce, tomatoes and
sauce. There was also tehina in the mix, and that added to an overall
dryness which made it difficult to eat without excessively
chewing. It's a pity because the meat on its own tasted very good.
Coming in a wrap, the Durum Kebab fared better. The best thing to do here is design
your own and we suggest eating it with tzatziki or garlic sauce, as it makes for a delcious combination with the meat. Add some harissa to the mix as well if you
like your food spicy. The fries were good but could've used some more salt and
they tend to get soggy after a little while in their packaging.

The staff at Ali Baba
are very nice, however communication was a bit difficult due to the huge
window. We understand the kitchen has to be closed off from the street to
secure hygiene but it does make it difficult to order. You basically have to
scream at the window in order for the staff to hear you and vice-versa.
Having said all
that, the meat itself is very tasty where we found ourselves picking it out of
the bread to enjoy it on its own. For that alone, we foresee many more visits to Ali Baba.