Alwan Lebanese Bistro: Quiet, Nile-Side Restaurant in Giza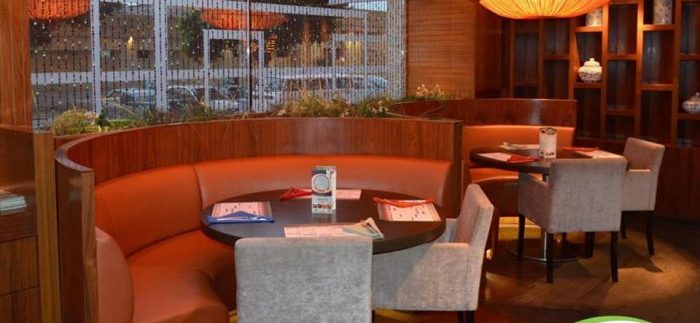 One thing we've learned over the years at Cairo 360 is that when it comes to Cairo's dining scene, the only certainty is that nothing is certain. We've seen many a novelty and gimmick fade into obscurity, though certain cuisines all but guarantee a certain level of success – Lebanese being one such cuisine.
Located on the Giza Conriche, recently opened Alwan Lebanes Bistro takes up the space where short-lived Asian restaurant, Chop Chop once was, right next to the new Saudi Arabian Embassy. As with Chop Chop, Alwan shares an entrance with a neighbouring Indian restaurant, Asha's.
Upon entrance, a friendly waiter greeted us at the door and stayed with us in the endeavour of exploring some of the more unfamiliar dishes.
Though the names Alwan ('colours' in Arabic) seems more suited to a quirky cafe, the décor is actually very contemporary and the use of colours subtly brightens up the cold, sleek space. Our favourite feature was the coloured strands running across the windows.
We started with a classic Fattoush salad (20LE), which we found very balanced and generous with the crispy, fried bread. Next they served us the Fruit Cocktail (29LE) which was fresh and delicious.
We had opted for Mankoushet Alwan (40LE); a round mana'eesh split up into four pieces, each with a different filling. The oregano and cheeses sections were flavourful and light, though the meat in the minced meat piece was noticeably not fresh. Confused about what was in it, our waiter clarified that the fourth piece was in fact stuffed with Lebanese kishk – a dish made of cracked wheat, yoghurt and milk. Similar to a savoury rice pudding, it didn't quite sit well with the bread of the mana'eesh.
The great thing about Lebanese cuisine is the colourful and liberal use of spices, which was very obvious in the Mixed Grill (99LE). The Shish Tawook and Kabab were incredible; the seasoning was perfect and they were cooked exactly right. The Kebab was so tender it would melt in your mouth. The Kofta on the other hand, while perfectly seasoned as well, just couldn't seem to keep its consistency. Every time you touched it with a fork it would crumble into smaller pieces.
One of our favourite features of the experience was the tasty and freshly baked Lebanese bread. We decided to end the meal with a Nutella Pie (35LE). Topped with bananas and kiwi, the pie was a great combination of soft and crispy, while the banana and kiwi was fresh.
Being a relatively new restaurant on what is an already very busy Lebanese dining scene in Cairo, Alwan delivers what it promises, but lacks the pizzazz to challenge more established Lebanese restaurants like Taboula.