Baba Abdo: Deliciously Cheap Sandwiches in Islamic Cairo
In front of Bab El Fetoh and AlMoezz Li Din Allah Al Fatimi Street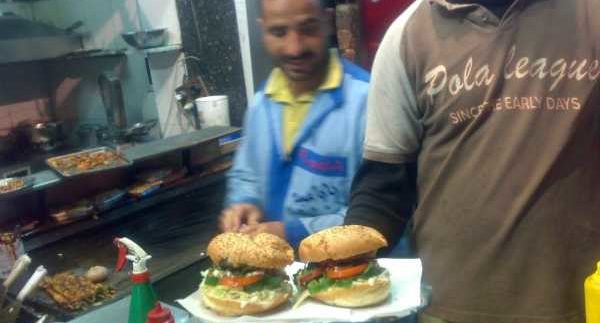 One of the cool things about
the multifaceted city of Cairo
is that when it comes to food, options are so extremely diverse that you can
have some of the best cuisine either in a high-end hotel restaurant or a tiny,
obscure street stall.
Right in the heart of Cairo, in front of the
fascinating Bab El Fotouh (gate of conquer), there's an extremely small yet highly
popular and famous street food kiosk called Baba Abdo.
Baba Abdo is five minutes away
from the famous Masged El Shorta (Police Mosque) on Salah Salem: keep the
mosque's parking on your left, take the first left then the first right. You
will find Bab El Fetoh on your left and Baba Abdo on your right.
The street is quite narrow
and crowded, and the smell of all kinds of food fills the area; as it is packed
with small eateries serving various cuisines.
Baba Abdo is just a simple
small kiosk with about a dozen or so tables and plastic chairs lined up on the street.
It serves all kinds of cheap sandwiches of typical Egyptian cuisine, including
chopped liver (both baladi and Alexandrian), Turkish sausages and kofta.
Sweet sandwiches are also
available, including every schoolchild's favourite, halawa bel eshta; or sweet tehina
with thick cream. If you like your food spicy, try the sogo' sandwiches, but be
warned; they are extremely spicy and you will need a bottle of cold water with
you to put out the fire.
Nearly all food at Baba Abdo is served in small, half-fino loaves, except for burgers
and kofta sandwiches, which are served in larger Kaiser buns. The sandwiches
are quite cheap: all range between 4LE and 8LE, so you can order five different
sandwiches alongside pickles and a salad, leaving with a full stomach for just 30LE!
The kiosk is open 24 hours a
day but we recommend going late at night to enjoy the fascinating view and
lighting of Bab El Fotouh. Furthermore, service is much better and faster at
night. Parking can be problematic though since the street is quite narrow.
After such a heavy meal, we
recommend that you enter Bab El Fotouh and take a long walk along the amazing
street of El Muezz Li Din Allah Al Fatimi, enjoy one of the oldest
streets in Cairo, which is considered to have one of the highest concentrations of
medieval architectural treasures in the Islamic world.