Bulls Burger: Heliopolis Restaurant Enters Cairo's Competitive Gourmet Burger Scene
41 Abd El Hamid Badawy St.
One of the latest food fads to be embraced by the Cairo dining scene over the last few years is undoubtedly the concept of the 'gourmet burger'. In the grand scheme of things, many are overpriced and the fast-food alternatives are, well, barely food.
The most recent addition to the Cairo gourmet burger scene is Bulls Burger, which opened its doors this year in front of El Shams Club's main gate in Heliopolis. The venue has an outdoor seating area and a spacious indoor area split over two floors. The décor is quite hard to take in, to say the least, with bright, almost nerve-wracking colours adorning an otherwise basic setup – think lime green walls, neutral tiling and terracotta orange ceiling.
The menu is relatively generic, featuring an assortment of fried appetisers, six traditional beef burger options and a few chicken burgers. In addition, each order comes with a refillable plate from salad bars conveniently located on both floors. Diners are also welcome to refill their sodas and their dipping sauces from the taps.
The patties come in four sizes; 150g, 225g, 300g, or 450g. We opted for the Appetiser Platter (55LE), My Burger 150g (35LE) and the Monster Burger 225g (42LE). The friendly waiter took our order and came back after just ten minutes with an eye-popping appetiser platter and an array of all possible sauces and cheese dips along with some plastic gloves so we can get as messy as we want.
The platter was a comfort food haven featuring onions rings, chicken strips, mozzarella sticks, chilli cheese wedges and spicy chicken wings. All the items were fried to a perfect crunch served blazing hot, complemented best by a delicious ranch sauce.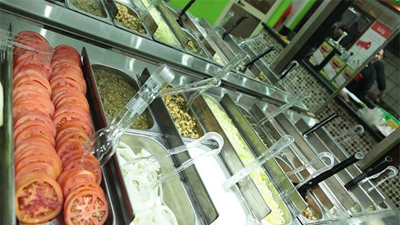 The salad bar includes a range of different options including potato salad, coleslaw, apple-mayo salad, sweet pickle relish, salsa, green beans salad, pickles and coarse-cut veggies; all were fresh, with the green bean salad standing out, while the salsa was deceptively spicy – you've been warned.
The burgers arrived shortly with a side of well-seasoned thick wedges and flavoursome sweet corn. The My Burger featured a thick beef patty topped with sliced bell peppers, cheddar cheese and deliciously crunchy onion rings, all tucked in a butter toasted bun, while the hefty Monster Burger was topped with a slice of fried mozzarella, fried mushrooms and fried onion rings. Needless to say, the latter was incredibly heavy and while both burgers were filling, the patties were overcooked, somewhat dry and under-seasoned, striking out the otherwise enjoyable combination of the toppings during our visit.
And herein lies the problem; you can have all the creative combinations in the world, but if the soul of the burger – the patty – isn't up to standard, then you have a burger that isn't up to standard and a meal that isn't up to standard. Granted, the appetisers and salads are worthy of attention, but Bulls Burger, as things stand, are trailing behind in what is already a very competitive market.