Butcher's Burger: Award-Winning Gourmet Burger Chain Arrives in Sheikh Zayed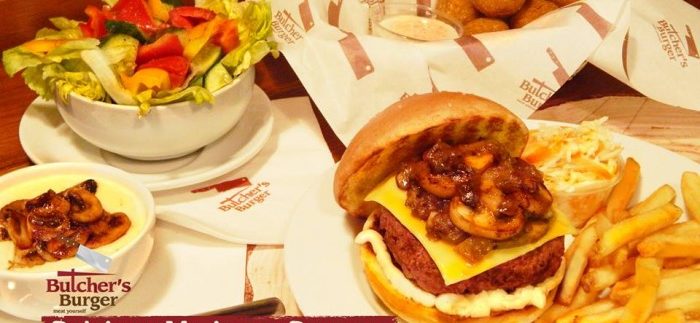 There are only a handful of restaurants in Cairo that offer the authentic diner burger. Among those, and one of our favourites, is Butcher's Burger; one of the recipients of the Cairo360 Editor's Choice Awards 2014 for American Dining.
With branches already in Agouza and Zamalek, Butcher's Nurger has opened its third branch in Sheikh Zayed's Karma Mall 1. They're also expecting two more branches at SODIC West and Citystars.
Our visits to the first two branches cemented the restaurant's claim to being a true American diner kitchen, serving all sorts of patties and American appetisers like chilli cheese fries and crunchy cheese balls.
Overlooking a small garden, the modestly-sized restaurants only has two tables in the indoor area and a couple more outside. The decor is unified across the branches, with red brick walls decorated with plaques holding random quotes about meat, as well as a diagram of the different meat cuts, and table covers designed to look like wooden cutting boards.
The staff were very pleasant and tried to answer all our questions. The menu contained everything from burgers and chicken sandwiches, to sides and salads, steaks, hotdogs, sauces, drinks and even a specialised kid's menu.
The patties come in two sizes; 170g or 300g and we opted for the 300g Mighty Butcher (77LE) as well as a Go Mighty Southern BBQ Burger (74LE). We also tried the Onion Rings (19LE) and fresh Lemon Juice (14LE) and a soda (10LE).
Served first were the Onion Rings, which were nice and crunchy, if pretty standard, with a side of BBQ sauce. Next came the sandwiches. The Mighty Butcher featured lettuce, cheese, caramelized onions, pickled cucumbers, jalapenos, beef bacon and garlic mayo, while the the Southern BBQ Burger featured BBQ sauce, onion rings and a mixture of cheese. We ordered both burgers cooked Medium-well based on their advice, and they were, indeed, juicy and delicious. The jalapenos added a special twist to the flavour, but the bacon was unfortunately hard and dry, making the already messy job of eating such a large burger even messier.
The burgers are served with crunchy French fries and a decent coleslaw salad.
We took a breather after our food, but then noticed they had Deep Fried Ice Cream (34LE) in their desserts menu. Taking no time to serve, a ball of ice cream is coated in a layer of cheese and then deep fried and topped with caramel or chocolate sauce. To our surprise, the ice cream was still cold on the inside with a hot and crunchy layer on the outside – a great way to end the meal.
We left Butcher's Burger completely full and satisfied, and while their prices may seem a little steep, their portions are generous and the quality and freshness of their food is unmatched.