Cafe Gourmet: Solid Lunch Option in Dokki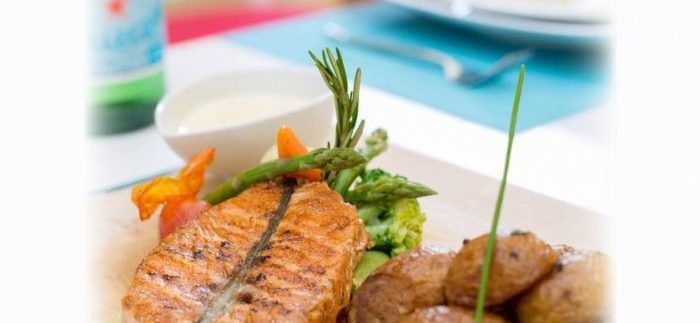 A new restaurant in Cairo claiming to serve gourmet food is always welcomed heartily and while Cairo excels at affordable food, the higher end restaurants have a tendency to mismanage quality control.
The latest player in the gourmet business is Cafe Gourmet, located just off Mossadek Street in Dokki. Serving everything from shisha to steaks, and utilising the backyard of the building as an outdoor area, Cafe Gourmet offers a nice inner-city option for breakfast, lunch or dinner, or even just a shisha and drink.
With strangely not-so-gourmet decor – graffiti wallpaper and colourful striped chairs – it's tough to get a sense of the restaurant's identity from the aesthetics.
The friendly staff greeted us on entry, showed us to our seats and handed us a pretty impressive menu. With options for breakfast, soups including mushroom with truffle oil, steak sandwiches, and beef, chicken and fish main courses, there certainly isn't a shortage of options.
A complimentary bread basket with a selection of relatively fresh brown and white bread is served with five dips, including pesto and compound butter.
We opted Shrimp Tempura (40LE) and Buffalo Spicy Chicken Wings (30LE) from the appetiser menu. Serving time wasn't the fastest, but the presentation was gorgeous. Served on wooden boards with their respective sauces in chic white bowls, and garnished with curled potato slices, it certainly invites you to eat with your eyes.
Sadly, the taste didn't live up to the presentation. The Shrimp Tempura wasn't fried properly, and no amount of soy or sweet and sour sauce could salvage that. The Chicken Wings didn't taste very fresh and the sauce wasn't nearly as spicy as expected.
From the main courses, we opted for a Chicken Rose (50LE) and an Atlantic Salmon Fillet (70LE). While the main courses took significantly longer than the appetisers, our patience was rewarded – generously.
The Chicken Rose, made with just a hint of rosewater, in addition to black pepper, lemon and butter, was perfectly cooked and exploding with flavour and was served with a side of well seasoned and well cooked sautéed vegetables, and an extremely filling creamy mushroom risotto, that although a little too creamy, was still better than most.
The Atlantic Salmon Fillet was also served on a wooden board with a side of the same sautéed vegetables, in addition to roasted baby potatoes with herbs and a garlic yoghurt sauce. The salmon itself was incredibly tender and melted like butter. The fillet wasn't overpowered by lemons as to hide the taste of fish, but rather seasoned perfectly well for optimum flavour.
Overall, dining at Cafe Gourmet is very pleasant experience, but as with so many restaurant's in the city, consistency was an issue.