Chef's Market: Unique & Creative Mediterranean Cuisine in Citystars
Mosaique Dining Zone, Phase 2, 4th Floor, Citystars, Omar Ibn El Khattab St.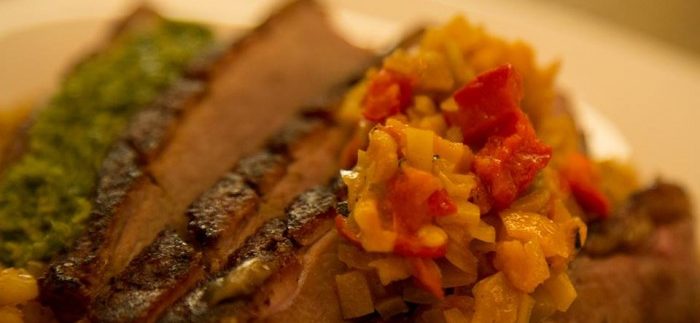 While restaurants in Cairo open in all corners of the city, there continues to be a concentration of creative, original eateries at the city's many shopping malls. One such example is Chef's Market, located in the new Mosaique Dining area of Heliopolis' Citystars.
The spacious venue is split into three stylish seating areas, with bare brick walls and contemporary-chic decorations overlooking an open kitchen area. One of the brains behind the operation is Wessam Masoud, who aside from being a notable chef, is also host of Kitchen 101 on CBC.
His experience in gastronomy is reflected in the menu; complex and varied, the dishes – and the general mis-en-scene – are inspired by the bustling food markets that are a cornerstone of cooking with our Mediterranean neighbours.
The menu is concise, firmly emphasising quality over quantity, and offers salads and appetisers, along with a selection of beef, poultry and seafood dishes. Fresh juices and hot drinks are also available, along with two types of desserts – as we highly recommend the freshly squeezed tangerine juice (21LE).
The herring, shrimp and roasted beetroot salad (48LE) was fresh, flavourful and overall delicious. Served in a deep bowl, the beetroot was diced along with cuts of cucumber on a bed of lettuce. The herring was plentiful, along with three fresh shrimp, drizzled with a light lemon dressing. Though it's rare to find dishes across Cairo's restaurants that use beetroot with anything other than feta cheese, the sweetness of the vegetable balanced the seafood elements perfectly, maintaining both the integrity of the herring and the shrimp.
From the beef section we opted for the tenderloin steak (96LE); perfectly cooked cuts of beef that really did have a melt-in-your-mouth quality. Wrapped in strips of beef bacon and sweet caramelised onions, a remarkably well-suited lemon dressing added a dash of acidity. Served on the side was a portion of spinach and chickpeas, along with a freshly baked potato and zesty pickled tomatoes.
At the recommendation of the waiter, we also enjoyed the unusual pairing of duck breast with fereek and red pepper relish (70LE). The cuts of duck were cooked perfectly – a rarity in Cairo – and the fereek was infused with aromatic spices that made a great canvas for the red pepper relish.
After our meal we were served a complimentary dessert of heavenly custard topped with konafa crumbs, cinnamon and raisins; this signature dessert has mustered quite a reputation, with patrons coming from all over Cairo to Citystars just to enjoy it.
The idea of dining at a mall conjures up images of noisy food-courts and the location doesn't exactly work in the restaurant's favour. But despite this, Chef's Market has exceeded all the expectations its ambitious team set forth on what has been a long, hard, but ultimately fruitful, road.