Chili's: Family Dining in Maadi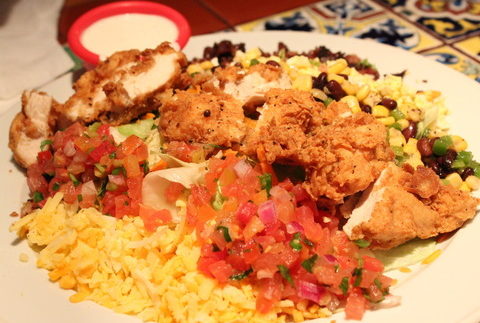 Some restaurants in Cairo have developed a following of families who dine at the establishment every Friday – like a family ritual of sorts. The thing with these restaurants is, since the people keep coming back, it leaves room for the quality of food to fall.
One such case is Chili's in Maadi; seemingly a pioneer in overcooked steaks. You'll find it packed with families every Friday, despite its location in the terrible Bandar mall, and it has somehow managed to survive the economic crash and the uproar in Egypt, all while serving subpar food.
The venue itself has the usual cluttered Tex-Mex diner feel, with an additional outdoor area that's far too hot in the summer. Seating will take you quite a while if it's the weekend, and you can also expect long serving times.
Much to our dismay, we sat down after waiting for fifteen minutes. We dived straight into the menu to shorten our waiting time. From the appetisers we opted for a Fajitas Trio (82.99LE).
Arriving on a sizzling hot plate with onions and bell peppers, the dish contained beef, chicken and shrimp, accompanied with small tortilla wraps, sour cream and pico de gallo. Fresh off the bat, the chicken and the beef were so over cooked you couldn't bite through them; the shrimp, on the other hand, tasted like it had been defrosted and, similarly, hard to chew.
From the main courses, we opted for a Southwest Ribeye (114.99LE) and Crispy Honey-Chipotle Chicken (52.99LE). Served with mashed potatoes with cheese and bacon bits, as well as sautéed vegetables, the Southwest Ribeye is said to have southwest seasoning and topped with seasoned butter. The steak was ordered medium rare, but what we got was a good two stages past well-done. So well-done, in fact, that you could taste neither the seasoning nor the butter; just charred, terrible tasting meat.
The chicken, however, was much better. Served with French fries and the honey chipotle sauce, it too was overcooked, though in a roundabout way, it worked to the dishes favour. The chicken had pleasing crisp to it, albeit a little too chewy, and the sauce was very tasty.
To top off a sad experience, we hoped a dessert could salvage the situation. We were wrong.
We ordered the Brownie Sundae hoping to get to some cold vanilla ice cream melting over chocolaty goodness. Instead, we got a stale, barely warm brownie. The vanilla ice cream wasn't bad though; don't be alarmed by its yellow colour though; that's just the egg whites in the French vanilla recipe.
One can understand the appeal of Chili's; a big menu of unfussy, filling food. But how it continues to enjoy such a level of popularity, unaffected by the country's economic woes, is a mystery.