Crust: Italian Wood-Fired Pizza in Maadi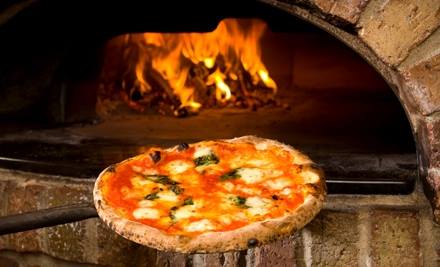 Italian restaurants in Cairo often fall victim to the Americanisation of the dish; the original recipe calls for a thin spread of dough and a fine layer of mozzarella cheese, and most who claim to mirror this authenticity often simply don't.
As pizza tradition dictates, Crust Pizzeria provides delivery, although nothing beats the experience of dining at the restaurant itself. The decor is casually chic, with an interesting seating variety; aside from the solid oak tables with matching padded seats, there's also an outdoors area to eat in the sunshine on picnic tables and benches.
Those that bring their children along and treat them to a serving of bunny shaped pizza (26LE) or mini spaghetti (24LE) will be glad to know there's a playground to let off their hyperactivity, especially if they've been given a taste of the sugar rush inducing Nutella calzone (23LE).
The service is hasty without sacrificing quality; at a relatively quiet time, the staff can serve up your order in around twenty minutes.
We particularly enjoyed their arugula salad (31LE), which sees caramelised onions, feta cheese and candied walnuts accompanying the fresh leafy greens. While the inclusion of both walnuts and onions may lead one to assume that the salad would be sweet, the salad is seasoned perfectly to balance, especially with the flavour combinations of the cubes of lightly salted feta cheese and the zesty vinaigrette.
Crust proudly distinguishes themselves from other pizzerias through their use of a wood fired grill. Lack of exposure to the scorching temperatures of a gas born flame saves the dough from developing a hard consistency. Combined with a fine choice in mozzarella cheese, not only do the pizzas taste delicious, but they have a distinguished texture too. It came as no surprise that the seafood pizza (45LE), topped with prawns, calamari and a special plum tomato sauce, boasts a fabulous flavour of the sea.
We also enjoyed a Blanco (36LE) from their special pizzas section; a three cheese blend along with more arugula and caramelised onion, smothered with pesto and tomato sauces. While it was a little on the salty side in comparison with the seafood pizza the toppings and creative combinations meshed together to provide a delicious combination.
Crust provides deliciously authentic, Italian tasting pizza with generous portion sizes, making it a contender in the always hotly-contested perennial 'best pizza in Cairo' arguments we have so often in our office.