Firestone: Wood Fired Pizza at Heliopolis Bistro
66 Omar Ebn El Khattab Street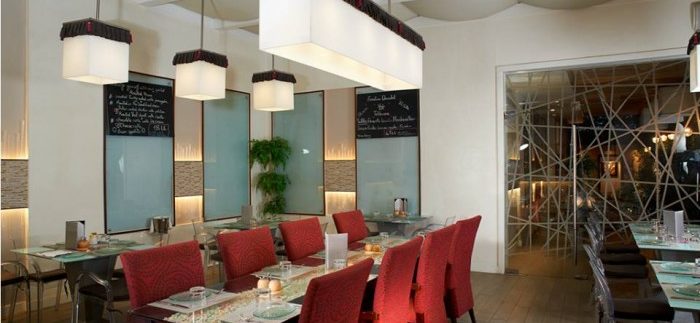 With so few restaurants in Cairo offering a consistent balance of good fod and good atmosphere, any restaurants that threatens to do so is music to Cairo 360 ears. The latest competitor in Heliopolis is Firestone; one of three restaurants, including Byblos and Rossini, situated in a small food court of sorts on the quiet Omar Ebn El Khatab Street.
Firestone specialises in wood fired pizza, but also serves a range of soups, salads and pastas, as well as a selection of limited main course options.
The food court itself is rather elegant, utilising a small make-shift waterfall and plenty of greenery. With a dominantly white and reddish-pink colour scheme and mostly plastic and glass furniture, Firestone is both aesthetically and physically comfortable, though the atmosphere could have done without the pop music playlist.
With drinks and dessert menus already on the table, the waiter handed us a larger, one page menu containing all the food. First, there's the pizza section, ranging between 50LE and 70LE with additional toppings ranging between 10LE and 20LE.
From the appetiser options, we went for fried meat balls (38LE), The four balls served were fried in a batter and came with a barbeque sauce. The meat itself was rather bland, through the seasoning was pleasingly sharp and gave it a tang.
From the pizza menu, we opted for a Diavola Pizza, made with grilled sausage, pepperoni, mushrooms and fresh tomato sauce (58LE). The pizza was very decent in size and the fresh ingredients tasted excellent, but the edges of the pizza were burnt from the wood oven, hurting the presentation and adding a scent of burnt dough.
From the main courses, we chose the Firestone Fillet (84 LE); a grilled beef fillet with mushroom sauce and spicy capers, in addition to sides of sautéed vegetables and potato wedges. This was probably Firestone's best dish, and well worthy of holding the restaurant's name. A generous portion of tender, fresh and cooked-exactly-as-ordered meat topped with an untraditional mushroom sauce with capers that was ingeniously put together and surprisingly tasty.
The dessert menu contains very standard international menu options, except for one; the Gelato Al Forno (32 LE) – ice cream served on a warm, freshly baked cake covered in a layer of biscotti and stuffed with fresh fruit. While it was extremely generous in portion, enough to feed 2-3 people, it was also extremely sweet, so be warned if you don't have that strong a sweet tooth.
The service was great, the food was delicious and quickly served, the restaurant was extremely clean and the waiters didn't hover, making themselves available only when needed. You won't find any the next steps of culinary evolution at Firestone, but you certainly won't leave disappointed.